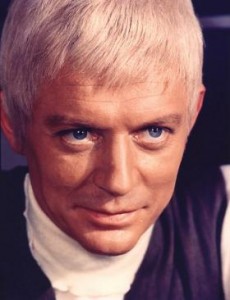 Welcome back to the re-vamped, re-designed Ed Straker Herald.
After a hiatus caused by a combination of events, your editors are delighted to be once more able to share our love of UFO, and indeed all of Gerry Anderson's productions, with his many fans. Prior to going off-line in early 2012, the editors of the Herald were busy preparing a new issue, complete with personal tributes to Gerry Anderson and two short vignettes written by 'dragon' in acknowledgement of his wonderful legacy. It seems only right to post them in this new issue, to share our thoughts at that time. Dragon's vignettes are titled: 'The Bar' and 'The Meeting'. We hope you enjoy them. We have also included a brief tribute to Dolores Mantez.
June is always a particularly sad month for UFO fans, as it marks the deaths of Michael Billington and Ed Bishop who both died in 2005. We would be remiss if we did not also remember George Sewell who died in April 2007.  The Herald contains detailed biographies of  Ed Bishop, Michael Billington, and George Sewell. Please feel free to leave a personal thought.
The editors have been tracking the FBI (Film Bridge International) website since we went undercover. The site was 'off-line' and supposedly in the process of 'updating' for several months, and a new page was posted in September 2012. Further updates have provided little in the way of solid evidence or encouragement and our report can be found in the 'News' section.
This issue continues our tradition of bringing readers the very best of UFO fanfic, as well as updates to our serials. In the final instalment of 'Vodka', Dimitri Leonov's secret is revealed and Alec Freeman and Nina Barry continue their desperate search for the missing lunar module. In 'Shepherd Pt 4: Grafted', Alec and Sara go to Rebecca's apartment in the morning to collect Straker, with serious consequences for several people.
Spyder's 'Shades' gives us more insight into the intriguing developments between Foster and Straker, and An Delen Dir's – 'Glitch in the Machine' – continues the adventures of Foster and Straker in the wilderness of Iceland, with mysterious happenings at night. There are two new serials  in this issue: Toria's 'Flat Tyre. Pt 1: Breakdown'  and Ltcdr's 'The Needs of the Many' – a UFO AU Crossover that was previously been posted on her website.
We also bring you eight stories: 'Citizen Soldiers' by dragon – a brief tale of volunteer soldiers of the National Guard, 'My Mate' by Lightcudder – a tale of danger and treachery in SHADO Headquarters, 'Drabbles' – a selection of very short 'shorts' all relating to the UFO episode 'Exposed', 'The Bar' and 'The Meeting'  both  by dragon, the third part of 'You Can Always Count on Me 'by Toria and  a story that readers may have missed – 'Small Pleasures'  by Ltcdr.  And finally, An Delen Dir gives us a chance to see the very first meeting between Ed Straker and Alec Freeman in her short 'Incirlik Airbase'. We hope you enjoy reading. Comments are welcome.
Art work this issue is by Norbert Steinert, who has generously allowed us to publish one of his photoshopped images for UFO, called 'After Work'. This is of exceptional quality and I am grateful that we have been given permission to share it with you. There are the next three pages of Moreno Tambellini's wonderful UFO comic, 'Identified'.
The 'Virginia Monologues' reappear for another revealing insight into Colonel Lake's valiant, yet somehow always unsuccessful, attempts to get closer to her heart's desire, and there is yet another new writer for the Star Signs.  Toria has continued the theme of 'Exposed' with a highly amusing look at previously unseen events in the cockpit of the XV 104, and Dr Jackson has enlisted the help of other members of SHADO as he tries to solve some more problems.
On a more serious note, Lightcudder takes a hard look at the role of Paul Foster from 'Exposed' onwards, and writes about her visit to the grave of George Victor Bishop.
Despite the long intermission since our last issue, the editors are hoping to renew old acquaintances and meet new friends and fans who may not have known about the Herald previously. We hope to produce a new issue every two to three months, depending on the support we receive from fans. The work involved in creating any free fanzine such as this is immense and we are, after all, only human.
To read the 'adult' stories and to comment on any post, go  here.
If you are interested in contributing to the Herald: articles, stories, personal memories, photographs of collections or models etc, please contact the editors.
Ed Straker.