Welcome  to the September issue of the Herald.
The 'focus' of this issue is the episode: 'The Responsibility Seat'  with an in-depth article that takes a closer look at the real story behind that kiss, a short story about Alec Freeman in the Hot Seat, and a look at what Paul Foster was doing in the Moonmobile.
We also have a contribution by Clayton Barr, creator of Pop Apostle- a website that is certainly worth investigating by all serious UFO fans! I would like to thank Clayton for his article.
In 'Lifestyle'  we have obtained the next extract from The Virginia Monologues,  where the Commander tries his hand at poetry and Colonel Lake gets the wrong idea as usual.
Meanwhile, Dr Jackson has been hard at work ensuring that all SHADO operatives are at the peak of their mental abilities and fully prepared for any eventuality, and the Commander tasked Colonel Freeman with the vital role of deciphering the messages written in this month's stars. Fans can also test their knowledge of The Responsibility Seat in a short quiz.
In  the Stories section we are pleased to publish 'The Hot Seat',  written by Kevin Goodman for the Herald. I would like to thank Kevin for his generosity in writing this for the Herald. Other UFO stories include 'Room 5:28'  by Ltcdr, Bad Company  by dragon and  a Captain Scarlet story: 'A Drop Too Many'  by Ltcdr.
Spyder's 'Circles'  serial continues – only a brief extract in this issue, but there are more to come, and we have the next part of An Delen Dir's Glitch in the Machine  tale set in Iceland. Other serials are also continued with the final chapters of Shepherd 4: Grafted,  and the second chapter of  The Needs of the Many.
Please note that some stories are only accessible to subscribers, due to their adult content. Details of how to access these stories are in the How to Subscribe  post in this issue.
Moreno Tambellini's lovely 'comic' Identified  continues with pages 10, 11 and 12 and there is a second  piece of art work Space 1999: Nighthawks  by Norbert Steinert in this issue. Please note the short message beneath the picture.
 ………………….
Setting up and producing any 'fanzine' such as the Herald is not only an immense and time-consuming task, but it is also a great responsibility. The Herald is produced by a very small team of fans who care enough about UFO  to spend a considerable amount of time and effort  in trying to keep this fandom active.
It has to be accepted that UFO  is a  miniscule fandom compare to most others, particularly in regard to fanfiction. Thunderbirds has undergone a resurgence in popularity over the last few months due to the new CGI episodes and this is reflected in the number of new fan-fic stories on Fan Fiction – currently over  3000 and more posted each day – which is not many compared to more recent  fandoms such as Supernatural with over 110,000 entries and Dr Who at 70,000.
UFO pales into insignificance beside those numbers – less than 200 stories on the most popular fanfic site – and regrettably, as the members of the original cast leave us, fans are left with little more than the dvds and their memories, with virtually no hope now of a new film.
So this is why the Herald continues, in the hope that we can keep those memories alive, bringing  new ideas and new stories to fans as well as showing a lighter side to the series. We welcome any contributions, either in the form of art work or photographs of models. Articles – either about episodes, characters or actors – are also welcome. Please contact the editors.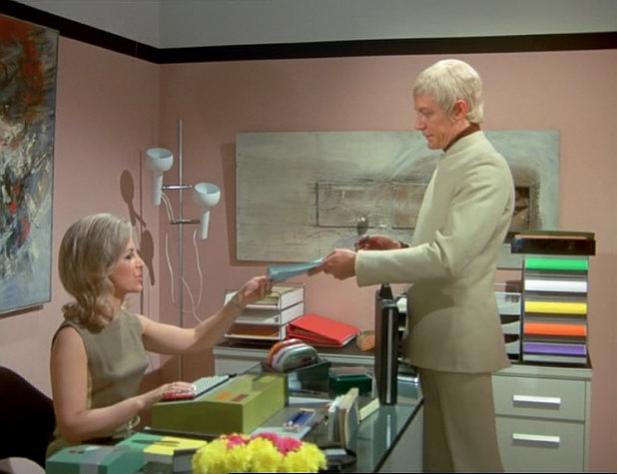 'Here's the next issue of the Herald, Miss Ealand. Please see that it goes online before noon today.'