I've never been to a convention before. Ever. And at one stage I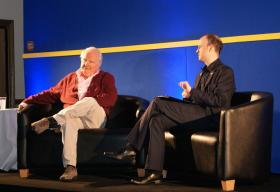 wasn't going to go to the TV21 one either. But I was persuaded to change my mind, and found myself on the Friday morning waiting at the railway station for the Glasgow to Bristol train, loaded with suitcases and some trepidation. At least it was a day off work! I arrived at Bristol on time, and found the hotel very easily thanks to the photo route that had been online. First things … get the registration pack and find out exactly what was going to happen. It was a little overwhelming to read the list of events, and to have to try to work out where everything was being held and who or what I wanted to see in the next two days.
The Friday night Barry Gray concert was packed with fans, but although I love the music, the overpowering voice of Brain Blessed was simply too much! (I did return for the second half to hear the UFO music though.)
Saturday was … busy. The opening ceremony was simply wonderful, with the 'theme' of Holding out for a Hero' and then it was a case of just trying to be everywhere at once. An impossible feat, even for someone of my incredible feminine powers! Somewhere in the disaster zone that is my workroom I have the schedule for the two days, but it has disappeared, and without it , the memories of the two days have merged into a blur of talks, discussions, interviews and meeting new people.
So, in no particular order, my lasting memories: Alan Shubrook explaining how he made Sky One fly out of the water, Shane Rimmer's voice and his smile when I asked him to autograph my drawing of Scott Tracy, Stephen Baxter chatting to me in the bar about writing and giving me his autograph as well, (and Stephen, I bought 'Flood' and yes, I loved it!) David Graham's compliment when I asked him to autograph a drawing of Parker, seeing the superb models on display, talking to people I had only even 'spoken to' on line, talking about art work to a journalist from America who told me to go and look at the drawings by Lightcudder and I was able to tell her that I was, actually Lightcudder, and yes, seeing Gerry Anderson. What do I say about that interview?
Gerry had been a formative part of my childhood, and I felt privileged to be there, listening to him talk about his life's work. I was saddened though, that he felt he had been let down by television companies despite the work he had put into New Captain Scarlet. It was a rather poignant tale in a way, and I was sorry that he seemed so disheartened. There was a raffle to get his autograph but I didn't have one of the winning tickets. I didn't mind though. I hadn't gone there for autographs, (although I did get three!) I went to rekindle the Anderson years of my youth. And even though UFO didn't feature very prominently, I still enjoyed all the discussions and interviews And I caught the train home on Monday, tired but very content. My first Convention. Hopefully not my last. And who knows… maybe next time there will be a UFO film to talk about.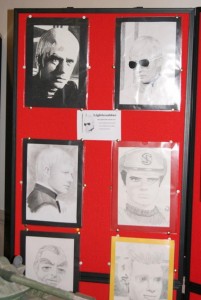 Lightcudder's Art Display