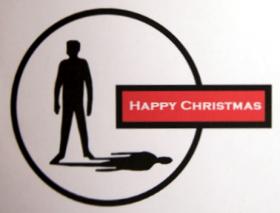 SHADO MARKETING DEPARTMENT
(A Subsidiary of Harlington-Straker Studios)
are pleased to present their Christmas catalogue.
Please note that all orders must be accompanied by your unique SHADO Identity number and will need to be verified through Voice Print Identification before any transaction can be authorised.
SHADO Writing paper
Ideal for all your 'thank you' letters. Heavy deckled paper 120gms weight, with the distinctive SHADO logo in the top corner. Sold in packs of ten sheets including envelopes.
SHADO Watermarked paper
Perfect for those copyright and special documents. A lightweight paper with a large central logo that ensures your work will not be photocopied.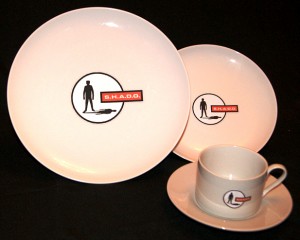 SHADO Tableware
Treat your guests to Christmas lunch on this superb bone china dinner service. Each hand-made piece is decorated with the SHADO logo which has been hand painted by our craftsmen. With six sideplates, dinner plates, dessert bowls, cups and saucers and two serving plates, this service will be the focal point of your festive meal.
SHADO Crackers
Get your Christmas celebrations of to a 'cracking' start with our quality crackers. Each contains a motto, a paper hat and a novelty item from our wide range. (Typical items may include: SHADO pen, SHADO pencils, SHADO dice, SHADO tape measure, SHADO miniature playing cards)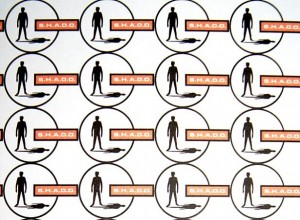 SHADO Wrapping paper
Five metre rolls of top quality wrapping paper with our logo. Can be used for birthdays and weddings as well as Christmas! Special offer! Six rolls for the price of half a dozen! This offer applies to all orders received before 14th December.
SHADO Christmas Cards
A simple yet festive logo ensures that this card takes pride of place on your mantelpiece!
Special Festive Collection
SHADO Marketing are proud to announce two new items in our Exclusive Collections line. Following the success of our Alec Freeman Whiskey Decanter and the much sought after Paul Foster Body-hair Brush Set, this year we are offering members the opportunity to purchase two figurines. These have been specially created for us by our world-renowned sculptor who designed and produced the very popular limited edition UFO in April of this year. Our sculptor has spent many hours perfecting these exquisite models and we are sure that they will be very popular. Please note that purchases are limited to one per customer.
1. Commander E. Straker. In cream Size: Six ft.
2. Lieutenant Ellis. In silver complete with detachable wig and spare outfit. Size: six inches.
For further details and payment methods call our hotline (open each day from 8 am until Commander Straker clocks off at night)
Please have your identity details ready.
All calls are monitored for our security.