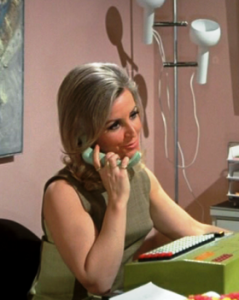 This month , Dr Jackson has received a variety of letters, and we have assigned different members of SHADO to the task of solving your problems.
The first question comes from 'Concerned' and has been answered by Miss Ealand.
***
Dear Dr Jackson
Following SHADO protocols I recently upgraded my CPU from Boyfriend 0.5 to Married 1.0. I was careful to get the complete package and I installed it according to the instruction manual. However, there has been a noticeable drop in performance and some of my add-ons and other applications seem to have disappeared.
I can no longer access Romance Version Single or Foot Massages 2:1, particularly at night and whenever I turn on at weekends or evenings I am faced with either Golf Edition 7 or even worse Pub2012. Both these programmes cause my system to freeze and I have to restart. I tried using the anti-virus software package Nagging 5.8 but that made matters worse and although Tech Support suggested TearsEdition3.4, that has made little difference.
Some of my other programs are also slow to respond, among them Flowers.3 and Talk2EachOther
Attempts to reboot the system do not work either, as Married 1.0 seems to be immune.
Can you give me any advice?
Concerned
Dear Concerned.
I fully sympathise. I have not yet upgraded to the new version of Married 1.0. I understand the software suppliers are fully aware of the problems and are working hard to remove corrupt files. One option is to uninstall Married1.0 although this is a long and tedious process, and is not always guaranteed to work.
The complexities of Married 1.0 are well known to those in the Computer industry, and, although it is a very efficient programme, if it is not installed correctly, it does have a tendency to infect other packages.
One major downfall with Married 1.0 is that it can cause your settings to default to Sullen Silence 4.6 and unless you are very careful, SlammedDoor 15. Should that happen, you should immediately contact our ICT Support team who will install the following Recovery System: dontyoulovemeanymore.html
This will enable you to run the following programs with greater success. Tears 3.2 and Remorse 4.5 ( an upgrade from the previous Guilt 1.11 program) . These systems do take some time to come into effect, and you should prepare yourself for the possibility of hackers accessing your computer and running Drunken 89 and SeparateBedx2 in the meantime.
Remember though, that Married 1.0 has tremendous advantages if used correctly. As always, once Married 1.0 is installed on your hard drive, you cannot run Boyfriend 0.5 without serious complications that would have a catastrophic effect on performance and might lead to a complete loss of all files.
I hope this has been of some help.
Yours sincerely.
Miss Ealand
Now for a problem answered by our very own Joan Harrington, coffee maker to the Commander.
Dear Dr Jackson
I feel a little bit embarrassed asking you this question, but you are a man of the world and I am sure that you will be able to help me.
What does it mean when a man is in my bed, gasping for breath and calling out my name? Does it mean I have satisfied him? Or is it that he needs more?
Naïve
Dear Naive,
Simple. It means you did not hold the pillow down for long enough.