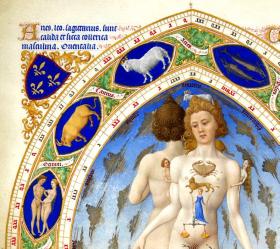 The August Horoscope
Capricorn: 22nd Dec – 19thJan
You face a difficult month. Too many chocolates? Or perhaps not enough exercise. Those few extra pounds are certainly going to make it hard to zip up that uniform!
Aquarius: 20th Jan – 18th Feb
False eyelashes are certainly 'in' this month. Just make sure yours are securely fastened. Colonel Foster gets very embarrassed when someone notices a stray eyelash on his pillow, especially when it is not one of his!
Pisces: 19th Feb -19th March .
Someone high up orders you about this month, but grin and bear it. It doesn't often happen. Keep your sense of humour and meekly get on with the task.
(Two sugars. That is all I will say on the matter. Although why he can't make his own coffee is beyond me.)
Aries: 20th March – 19th April
With Neptune in the shadow of Jupiter, now is not the time to demand parity with the men of Moonbase. You might be good at 3D chess, but those blue flight suits are, quite frankly, unflattering as well as necessitating a painful chest hair transplant.
Taurus: 20th April – 20th May
Taureans are well known for their sense of adventure, but think carefully before you act this month. Altering the molecular structure of the Moonbase American Meals so that they all resemble haggis and neeps is not a good move, although the usual application of tomato ketchup will ensure that everything tastes the same in the end!
Gemini: 21st May – 20th June
SID forecasts a surge in the magnetic field later in the month, with the usual side effects. Geminis, who are renowned for their acute awareness of the magnetic field will feel this most intensely. Side effects will include catastrophic malfunction of all metal fastenings, usually at a most inconvenient time, or sometimes a failure to open, due to intense magnetic activity. Degaussers will be installed in the men's urinals, and also in Colonel Foster's room.
Cancer: 21st June – 22nd July
Cancerians may feel homesick this month when Mars moves into conjunction with Venus, but discussing your feelings with those around you may provide some relief. Colonel Foster is a specialist in helping ameliorate the many stresses of our isolated life on Moonbase.
Leo: 23rd July – 22nd Aug
This month brings serious problems for all you Leos. After a quiet couple of weeks, you will discover that your regulation anti-static wig has been infested with what appears to be a family of bats. These will turn out to be pipistrelles, and are protected by law. Any attempt to remove the colony will result in a fine and possible prison sentence. Think of them as an ultra-modern accessory, with environmental benefits.
Virgo: 23rd Aug – 22nd Sept
The recent UFO attacks on the main Max Factor industrial unit are going to have a devastating effect on morale in the next few months. Virgos should stock up on their favourite shade of blue eyeliner as soon as possible (yes even you Commander) before supplies run low.
Libra: 23rd Sept – 22nd Oct
The lack of crunchy peanut butter causes Librans considerable anguish this month. Smooth simply doesn't have that same 'texture'. But don't be disheartened, Colonel Foster has a secret supply which he is willing to share. Just take your own spoon.
Scorpio: 23rd Oct – 21st Nov
Scorpios among you will be restless this month and feeling the effects of Saturn's transit. Spend some time ensuring that you are fully up-to-date with the latest procedures and protocols. Remember; your annual assessment is due at the end of the month but help is at hand. Colonel Foster is always available for extra coaching sessions! You only have to ask.
Sagittarius: 22nd Nov – 21st Dec
Sagittarians have a reputation for procrastination, so although it is July, chances are the Spring cleaning hasn't been started, let alone completed. Time to pull out the feather dusters. So many places need a quick flick and tickle! (The rest of this star sign has been censored by Col Foster.)