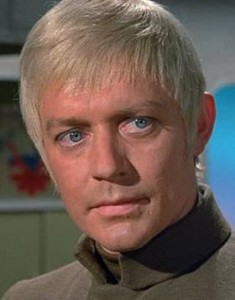 Welcome to 2012. May I take this belated opportunity to wish all our readers a prosperous and successful New Year, unless of course you are a visitor from another world.
The month of January was named after the god 'Janus' who is best known for having two faces, one which looked forward to the future and the other that looked back into the past. It is also a time when we think about what we want to achieve in the coming year and make resolutions. We all do it. The subscription to the gym, the promise not to drink any alcohol for a month, to lose weight, to walk the dog every morning. All those promises that we are determined to keep.
But reality intrudes, and we find ourselves quietly putting the gym membership card away, ignoring the dog when it pleads to be taken out.
It is the same here in SHADO. Despite our best intentions, life (usually alien life) disrupts our plans and the Herald has to take a back seat for a short time.
But we are here now with the first issue of 2012. I apologise for the delay and hope that you enjoy this 'birthday' edition as I reflect on the successes of last year.
2011 was the first year for the Herald, an innovative concept that has continued to develop over the last twelve months. It seems strange to look back and see that the first edition was in February, and that since that very first publication the Herald has published forty three short stories, (although some of these stories were over 14k words!). The vast majority of these stories were brand new and written specifically for publication in the Herald and many of them cannot be found anywhere else on the internet.
The Herald also persuaded one of the most gifted of slash writers, Spyder, to allow us access to her stories. It is a privilege to publish these exquisite stories that have languished unseen for too long.
Our team of writers have worked tirelessly to bring you a diverse selection of stories, from Captain Scarlet and the Mysterons to Thunderbirds and even from fandoms that are outside the realm of Gerry Anderson, but are linked to the Herald by virtue of the actors involved. Some of our serials are adult, some are pure action and adventure, but they are all read and appreciated.
December gave us the opportunity to publish Spyder's 'Gift' Story, and also Kitty Fisher's much loved 'Black and White'. Two intense and dramatic slash stories that will, I am sure, remain a firm favourite with readers of the Herald. Our other serials will continue through 2012, with John Shepherd having recovered his memory and having to deal with recent events.
Other questions though still remain.  Will Paul Foster and Straker in 'Shades' find happiness? What will happen next in Shot in the Dark, and will Captain Scarlet need his indestructible powers to prevent the Mysterons from succeeding in their attempt to destroy Spectrum? And yes, 2012 will bring further adventures for Edith Straker in Perspectives.
But the Herald is not only about stories. There have been over 20 articles on all aspects of UFO, from a detailed and carefully researched canon-based biography of Ed Straker to a humorous look at writing fanfiction, complete with parody. There have been detailed biographies of several actors as well as serious examinations of the characters of Ed Straker and Alec Freeman.
One particular article, Mary's Place, in the June issue, looked at the role of Mary Straker as Straker's long suffering wife, and was accompanied by a beautifully poignant story that dealt with Straker's feelings of guilt.
The Herald has also featured some superb pictures on its Art page, from pencil sketches to photomanipulation to incredible CGI work and graphic designs. Chris Thompson is certainly the name to watch out for if you like CGI films and images! But we have also been able to call on some of SHADO's foremost specialists in our aim to provide you with the most appropriate advice and guidance. Our medical staff under the guidance of Dr Jackson have answered over 40 of your personal problems and we have endeavoured to provide you with completely accurate astrological charts and facts.
So, now we can look forward into 2012. What will this year hold for the Herald? I sincerely hope that we do not see a repeat of the events of July, when the aliens managed to infiltrate our security and published their own Homeworld Gazette. Who can say what will happen though? All I can tell you for certain is that the March issue will not have my input. I will be absent for a few weeks, taking a much needed furlough. I will leave my second-in-command Colonel Alec Freeman in charge although he will be doing much of the work from his post in McMurdo Sound. I hope you will support him in his effort.
Cmdr. E. Straker