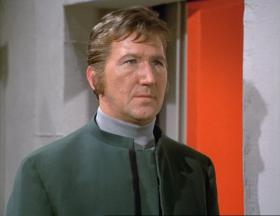 Dear Dr Jackson.
I am not sure how to how to say this, but I think that our esteemed leader is showing signs of stress. Perhaps it is time that he was sent on an enforced vacation. And then the rest of us can apply for leave and get it? (And maybe some of us could come back from exile? It's cold here in McMurdo.)
Yours Alec
A concerned staff member.
Dear Concerned Staff Member.
My researches concluded, I have returned to my office in England following an urgent call by Commander Straker who has requested my assistance with a specific problem.
As it appears the rotation roster has gone astray over the holidays, a new one will be instituted in a few days. Any personnel desiring leave must submit the request, in triplicate, to my office. We should have the organization back in normal working operation by the end of February. It does appear that those persons posted to outlying offices will be back on rotation last. I understand the ice fishing is good this time of year.
Yours
Dr. Jackson
Dear Dr Jackson.
I have been receiving numerous unsolicited mail recently with details of holiday offers and 'Special Breaks'. At first I considered that these were yet another alien trick to get me away from the safety of SHADO HQ. However, I am now beginning to suspect that there is a plot to get me to take a furlough. Or am I being paranoid?
Cmdr. E.Straker.
Dear Commander.
No, you are not paranoid, but my analysis of your most recent psychological evaluations show a marked increase in your stress levels and a decrease in your rational and logical thinking processes. This is even more apparent when analysing certain decisions that you have recently made, such as asking Lt Ford to be responsible for the January Star Signs.
Following discussions with other senior staff members I have decided that my first task, now that I have returned to SHADO, will be to insist, with reluctance, that you spend at least some time away from Headquarters, perhaps in pursuit of some leisure activity. Maybe you should consider accepting one of these 'Breaks'? You might find the one that offers 'Golf Tuition for the Beginner' particularly helpful, especially in reducing your handicap.
Yours,
Dr Jackson