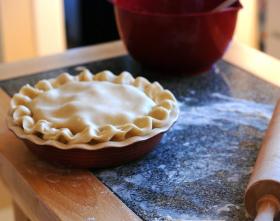 Settings and Situations
A serious look at places and people, and how lack of research can lead to some 'painful' situations!
So, you have your ingredients, all properly weighed and measured, now you need to prepare them.
Get out the chopping boards and the sharp knives! (and you might just want to check that your first-aid kit is handy!)
What has that to do with Fanfic you might ask?
Well, this section is about putting people in the right settings. Treating then with due caution and care and making sure that you don't do something unpleasant to them by accident. I have sharp knives in my kitchen. Very sharp knives. Extremely sharp. And because they are razor sharp I treat them with respect. As the saying goes. 'Blunt knives cause most injuries.'
I try to treat my characters with respect as well, oh yes….. I KNOW I am mean to Ed Straker, but I don't put him in impossible or ridiculous situations! If I want to get the best out of him, then I have to be sure that he is not being treated with careless disregard, like a blunt knife. A knife that will end up hurting someone accidentally.
The classic mistakes:
Our hero (or heroine!) is alone with the woman (or man) of his (or her) dreams.. (this is getting too complicated to write.. I shall stick with Ed Straker as my example!)
There he is.. …woman in his arms……. in bed. Fine. No problems. Until you read that the bed is actually a hospital bed. And there must be at least a dozen different stories with this scenario.
I work in a hospital. In England. I know what hospital beds are like. And believe me; it's not practical to consider having sex in one. They are narrow. They rattle. They have plastic covers on the mattresses. They are on wheels. They have bars along the sides to stop patients falling out.
The doors don't lock. EVER.
And nurses are nosey. Very very nosey.
Need I say any more?
So, with the combination of narrow, rattling, squeaking, jolting and frankly very easy-to-fall-out-of beds (unless you have the side bars raised!) and the Ward Sister popping her head around the door every few minutes; sex? No chance.
And if you have an IV in the back of your hand.. ouch..
Oh course it might be very different in hospitals in the US, but…. back to the point of this article. We are talking about England here. And I think I am the only UFO writer living in England at the current time.
Sex in hospitals happens. All the time. But it's generally between staff, and usually somewhere discreet and LOCKABLE! Linen cupboards (which are small rooms, not cupboards! ) medical rooms, again, discreet and private.
So, please. No sex in hospital beds. It's silly, it's impractical, and above all it makes a knowledgeable reader laugh. (and a good sex scene should NOT have that effect!)
What other settings need to be treated with caution? Ah yes.
The office.
Well, would YOU?
Really?
Oh my!
With Miss Ealand outside, with Keith Ford buzzing you at what might be a MOST inconvenient time? On the desk? (that white sculpture might get knocked off). On the floor? While the room is descending? (It would have to be a real 'quickie' then!)
Forget it.
And finally, the last place on Earth – I am not even going to THINK about Zero-gravity sex. All I will say is 'Chicken leg syndrome'
The beach. All that wonderful imagery, rolling water, setting sun, rippling wavelets; no wonder sex on a beach is a favourite setting for Fanfic writers.
Okay. Take a deep breath and prepare yourself for the next word…… ready?
Sand. Sand everywhere. And I mean EVERYWHERE.
Just think about it. ( and are you wincing – because you should be!)
Exfoliating certain areas that most certainly do NOT want to be exfoliated!
Bacteria (err.. fecal bacteria at that!) abound in sea water and sand and, once that has been forced into places where it most definitely should NOT go, can lead to delightfully romantic outcomes such as dysentery and UTIs.
Don't forget the sand fleas either.
So. Give them a groundsheet, or a sleeping mat. But NOT SAND.
Or your poor hero or heroine will be hobbling around for the next week or so with red raw skin where it hurts most as well as a nasty case of cystitis and dysentery.
SOOOO sexy!!
You might want to rethink that beach scene. Honestly.