Are you a serious fan of U.F.O. and everything related to the series? – then go ahead!
Test your knowledge about "The Responsibility Seat" with these questions set by Toria..
……………………
Question 1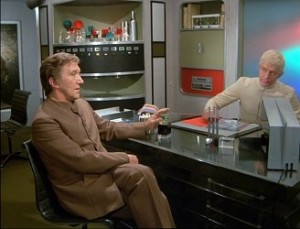 .
What does Commander Straker want to talk about, in this scene with Freeman?
a. Paul Foster's new girl friend.
b. The leave roster for  Moonbase.
c. Alec's  drinking problem.
……….
.
Question 2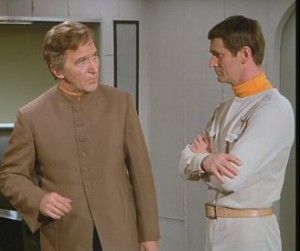 .
What does Alec do after Ford tells him about a radar trace of a stationary object?
a. He launches Sky 1
b. He gives Straker a call.
c. He waits until S.I.D. confirms the sighting again.
……….
.
Question 3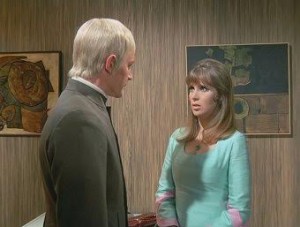 .
What does Straker want to reclaim from Miss Fraser?
a. A tape.
b. His virginity.
c. The statue she stole from his office.
……….
.
Question 4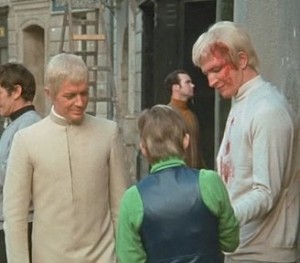 .
What is the name of the actor who looks like Ed Straker?
a. George
b. Siegfried
c. Roy
……….
.
Question 5
 .
How did the blue gemstone egg end up on  Straker's table?
a. It trundled out of the Easter basket
b. Miss Fraser picked it up from Ed's sideboard.
c. It is a hidden bugging device and Ed brought it from his office.
……….
.
Question 6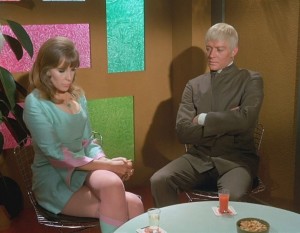 .
Complete Straker's sentence: "If there is one thing I hate, …"
a. …it's eating dinner alone."
b. …it's a woman with cellulite."
c. …it's Luigi waiting for the tip."
……….
.
Question 7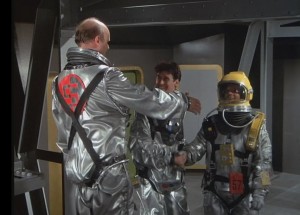 .
Why does Colonel Foster visit the Russian crew in their mining rig?
a. He is invited to share a bottle of Vodka.
b. The Russian crew have  found a crashed  UFO.
c. The mining rig is on a collision course.
……….
.
Question 8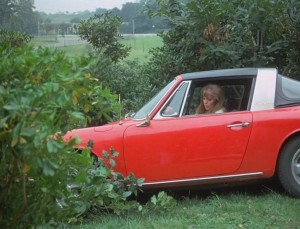 .
Why did Miss Fraser's car land in the roadside ditch?
a. She was distracted by Straker's manly charms.
b. Straker forced the car off the road.
c. One of the tyres went flat.
……….
.
Question 9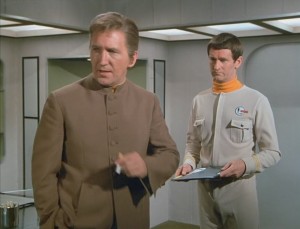 .
Freeman is not amused when he tells Ford "Oh, get outta here." What did Ford say first?
a. "If you just sign this, please, sir."
b. "This office is a no-smoking area, sir."
c. "I never told you, but you make me a horny dog, sir."
……….
.
Question 10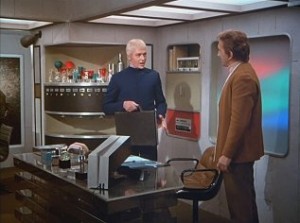 .
What does Straker answer, when Freeman offers him his chair with the words "It's all yours"?
a. "I know Alec."
b. "Thanks. After the affair with Miss Fraser a welcome recreation."
c. "Yeah, the other side of the fence."
.
 ………………………………………
Correct answers: 1b, 2a, 3a, 4c, 5b, 6a, 7c, 8b, 9a, 10c
9-10 correct:    Connoisseur! Congratulations!
6-8 correct:      Really good, you know a lot about the episode.
3-5 correct:     Well done, but perhaps you could improve your knowledge by watching the episode again.
0-2 correct:     Okay, it's a hard quiz – maybe you should buy the DVDs and  have another go in a couple of weeks?