The following is a transcription of the interview held on the afternoon of Sunday Oct 4th 2015 in the  Holiday Inn, Maidenhead.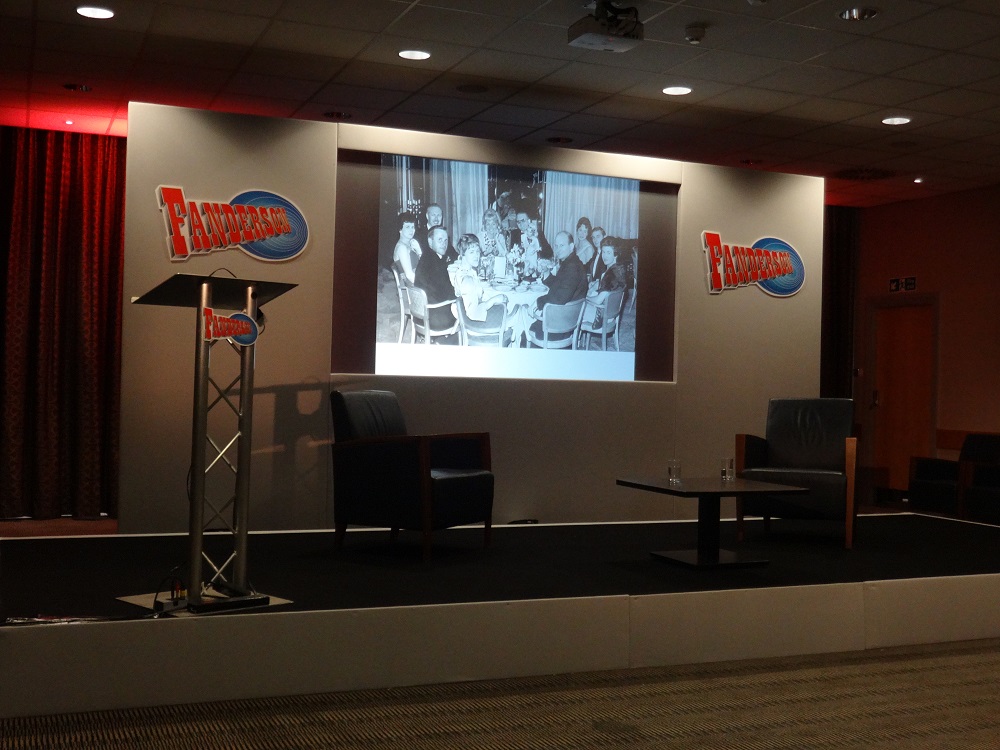 Commander Straker wishes to thank Lightcudder.
Cmdr Straker: Thank you Ltcdr, for agreeing to this interview. I hope you can help show the Herald readers what a great event this has been, and perhaps give us some insight into why Fanderson Conventions are so very popular. (sounds of merriment in the background from the bar area)
Ltcdr: It's my pleasure, Commander. I'm not one of the committee though, just an everyday Fanderson member.
Cmdr Straker: Exactly. That's the very reason for this interview. You can give an outsider's perspective, which is just what our readers want. First of all, can you tell me what is it about Fanderson that made you sign up for this weekend?
Ltcdr: That's an easy one to answer. Fanderson are a great team, and no, I'm not on commission from them (laughter). They all do this voluntarily, and it can't be an easy job. I'm on a committee for a small horticultural show held once a year and believe me, that's hard enough to organise. I daren't think what the Fanderson committee have to do, getting something like this up and running. It must take months of work. I wouldn't like to do it.
Cmdr Straker: Hard work setting everything up in the hotel?
Ltcdr: Not just that. It's all the work beforehand. The stuff no-one ever thinks about. Getting the right hotel, the right dates, contacting guests and making sure they are available. Posters, traders, insurance, displays. And then hoping the members sign up. (waves an arm in the direction of the bar area) But that's one thing Fanderson don't really have to worry about. They have a reputation for running good conventions. Look at everyone here.
Cmdr Straker: So what made this convention special for you? What stands out?
Ltcdr: Another easy question. Sylvia Anderson for starters. It was such a thrill to see her, and listen to her talk about the early years. Little things, like the fact that they were desperately close to running out of money. Can you imagine what that must have been like? She was going out and doing other jobs to try to keep the company solvent. And there was no resentment or sadness, just wonderful memories. It was a great interview, and I felt honoured to be there.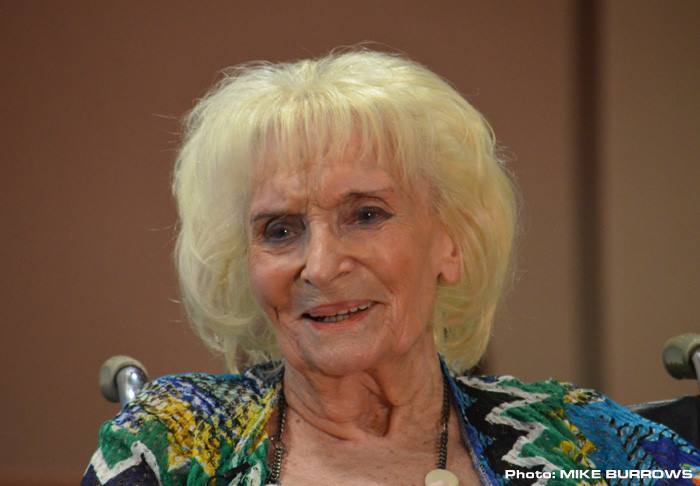 Photo courtesy of Mike Burrows
Cmdr Straker: What other memories will you take home with you?
Ltcdr: The Studios Revisited talk by Alan Shubrook on Sunday.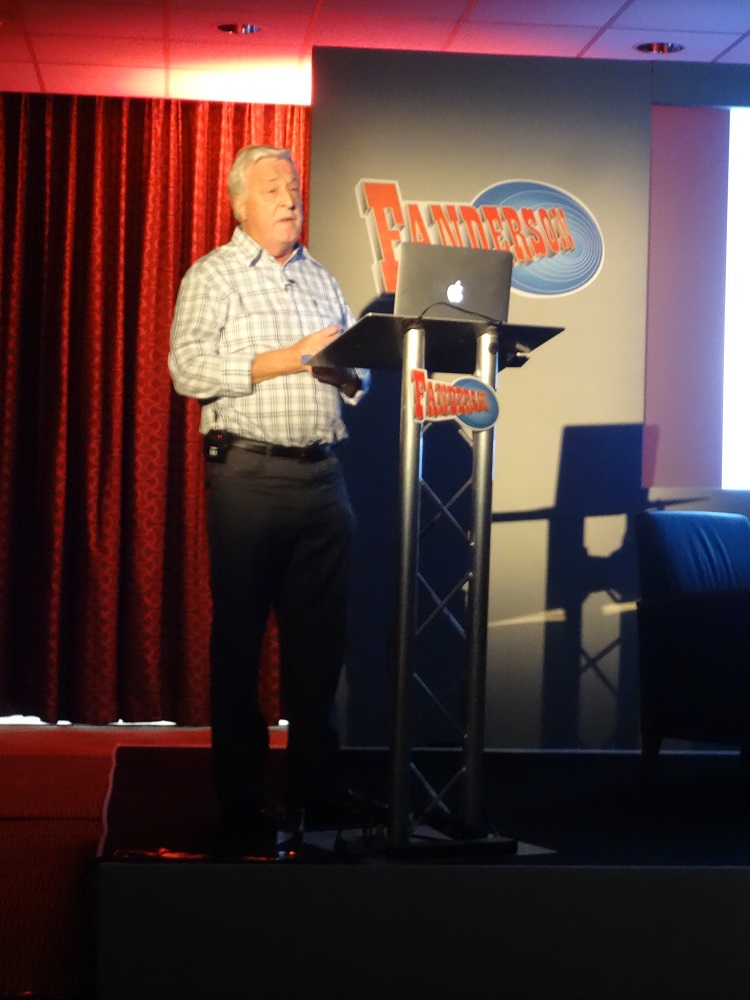 He was so passionate about his love for the work and everything he was doing then. It was a surprisingly emotional talk and I think we were all drawn into the sense of how good those times were and how we were part of something rather special happening. Other moments? Talking to Shane Rimmer in the line for breakfast, talking to close friends of Ed Bishop and learnng more about him, meeting other fans and being among people who have the same love for Gerry and Sylvia's work and loads more things like watching Graham Bleathman draw a SHADO mobile in the book I had just bought.
There were some great costumes as well – from Marina to Thunderbird One, but I was delighted to see a Sky One pilot, complete with SHADO pistol, which I believe was a rather cheap replica!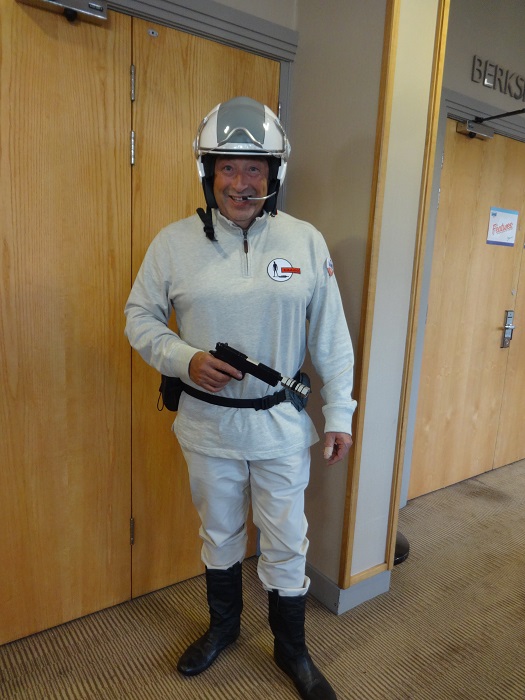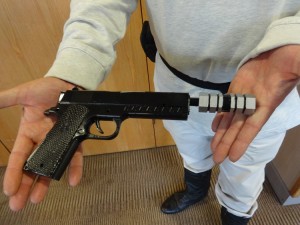 Cmdr Straker: So will you go back if Fanderson hold another convention?
Ltcdr: To be honest, I don't know. I hadn't intended going to this one at first, not after Gerry Anderson's death, but I support Fanderson, and the last convention was fabulous so I changed my mind. I'm glad I did, though I ended up carrying far too much stuff back home with me even though I didn't buy the UFO blu-ray set – which I wish now I had bought!
Cmdr Straker: Any last thoughts?
Ltcdr: I think fans have to be realistic. The cast and crew of UFO are getting older each year and there will come a time when there is no one who was directly involved with the making of the series. It's only to be expected that the live action series will get less input each year, but I would have liked a bigger UFO presence, some models on display and maybe interviews with people who had some major input in the world of UFO. Chris Bentley springs to mind for one. I wouold love to hear more about the work involved in  writing the Complete Guide to UFO, and the Technical Manual.  Maybe next time.
Cmdr Straker: When you get home will you be  back writing again?
Ltcdr: Of course. The editors, as you well know, are working on getting a new issue of the Herald out, and I have a new UFO story ongoing in which Jackson gets a rather larger part that I had initially intended. As well as several stories still to finish! And a painting to complete.
Cmdr Straker. Thank you for sparing the time from your busy schedule, and I hope you have a safe journey home.