By: Angelo Finamore (photographer), Spyderwritings (author), Spyderwritings (photographer)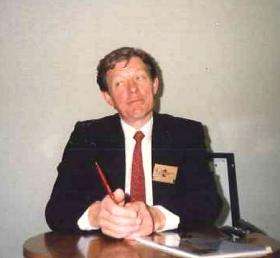 The first time I met Ed Bishop was in 1988 at the Uforia convention in London.  The convention was on the 18th June and I was due in hospital the next day for an operation.  As I live in Merseyside this was something of a squeeze but no way was I missing it especially since the guests were Ed, George Sewell, Tony Barwick and Delores Montez.
The convention was held in Conway Hall in Red Lion Square and was full of the usual delightful mix of ardent fans and sci-fi geeks (I was proud to be in both categories).  At one point, the hall crammed to bursting, we were treated to a shapely young lady wearing one of the actual moonbase outfits complete with purple wig.
I wish I could remember more about the convention but the other thing I recall with clarity (twenty-three years have passed since then so please forgive my lack of memory) was getting Ed and George's autographs.  Delores Montez was very glamorous and beautiful but the majority of the fans were there for the gentlemen on the panel.  Both Ed and George were gracious and very charming, chatting with fans and signing programmes and photos.
It was a wonderful day and a great convention but meeting two such lovely men was definitely the high point.
As an aside, the train we were due to travel back on was cancelled and we ended up having to get the slow mail train overnight.  We got in to Liverpool Lime Street at 5.00 in the morning and I only just made it in to hospital.  Certainly not a day to forget!
The following year, Legend held the first of three sci-fi conventions in Liverpool.  We had already held a smaller, very successful, Doctor Who event in a different hotel so we were really getting the hang of it.  I seem to remember that we had John Leeson and John Levene as guests, plus a very adorable John Shackley from Tripods (and if you remember that then like me you are showing your age!).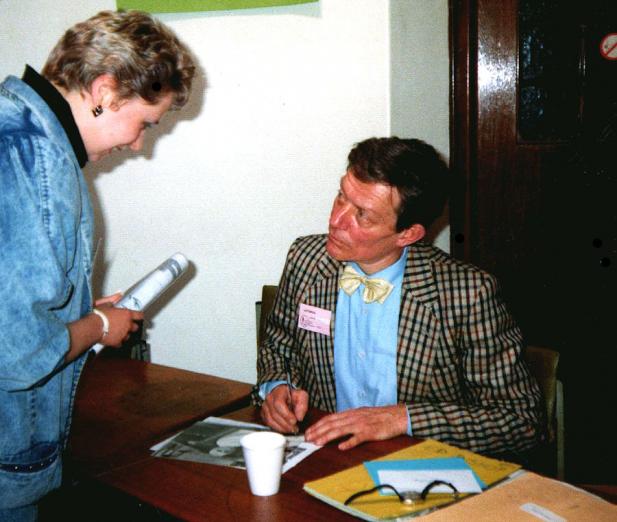 Convention number two was on 14th April 1989 and Ed Bishop was to be the guest of honour.  He was arriving by train early that morning in Liverpool and I had been given the task of looking after him for the day.  Bless the boys on the committee for appointing me as Ed's 'minder' although I'm pretty certain I'd have lopped off an arm if that had been required for me to get the job!
Looking back I think I was more terrified and excited than I had been at any point in my life but considering that I had adored the man for years I think excitement won out!
I picked him up at the station (he had come alone) and I remember my stomach turning over with nerves as I waited for him.  Stupidly I remember wondering if I would recognise him – as if he would look different!
Silly me.  Of course I recognised him.  He was wearing a lovely grey suit and looked very elegant.  This was about the time of his Nescafe coffee adverts and he looked very smart, as always.  (He later told us that the apartment used in the adverts was the same one from A Fish Called Wanda.)  Shaking his hand and introducing myself I remember thinking 'mine, all mine'.
OK, it was only for a few hours but I knew that they were going to be glorious.
Back in those days (when I was much younger and my skirts were so much shorter) I drove a beautiful silver Capri and I remember being so thrilled that Alec (yes, my car was named after Alec Freeman) had Ed Bishop in his passenger seat.
The convention's events were the usual, talks, guest panels, competitions and as a seasoned convention guest, Ed was absolutely professional and totally charming.  When he wasn't busy we sat and talked and I kept him topped up with tea and coffee and had lunch with him.
You have no idea how much I wish I could remember more about that day and what we talked about.  I do remember that he was chatty, warm and one of the nicest people I have ever met as well as being an absolute gentleman.
Somewhere (if I can find it) there is a photo of Ed Bishop and myself sitting together in the lounge of the Shaftesbury Hotel in Liverpool.  My nerves had long since been banished and if I had had my way the day would have lasted forever.
Eventually, when Ed's guesting duties were done and he had said goodbye to everyone, I drove him back to the station.  After I had escorted him to the correct platform he kissed me on the cheek and thanked me for taking such good care of him.  It was the most amazing moment and one that I will remember forever.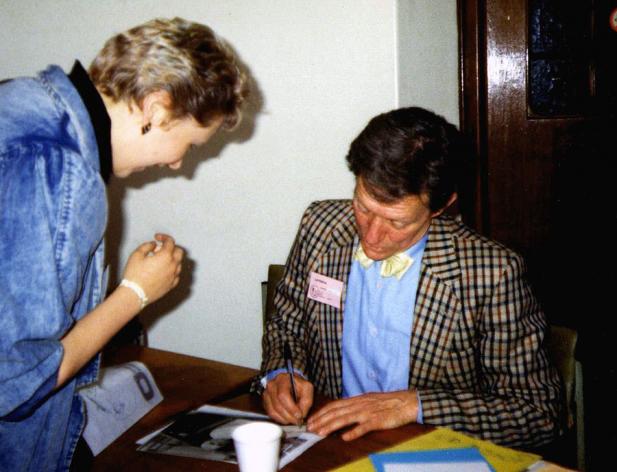 I'm quite sure that I was floating inches above the ground as I walked back to my car!  It was, without doubt, the best day ever.
Convention three had a Blakes 7 theme and the guests were Peter Tuddenham and Brian Croucher.  I remember walking Peter Tuddenham to the nearest chemist as he wanted to stretch his legs and buy some more toothpaste!  Brian Croucher was a huge bear of a man who at the time was sporting a thick black beard and drank pints and told hilarious stories.
That too was a really good day.  Both Peter and Brian were lovely chaps and I loved looking after them too but they were not Ed Bishop.  I don't think anything could have compared to that.
I met Ed twice more at conventions the following year and was amazed and delighted that he remembered me.  We held up the autograph queue talking for a few minutes and I got another kiss on the cheek to very envious looks from other fans.
Not long after I had to drop out of fandom for a few years and if he attended more conventions, I was not there to see him.  I did meet George Sewell several times as I still had the opportunity to go to the theatre and he was often seen treading the boards in the early 90's.  He played a delightful Baron Hardup at a pantomime in Nottingham one winter and looked very fetching in britches and white stockings!  He was the last one out of the stage door and signed my programme and chatted for a few minutes before heading back to his hotel.
Sadly, so many of our well loved actors are no longer with us and I feel very honoured to have met some wonderful people.  I will always remember Jeremy Brett, Nicholas Courtney and George Sewell as being absolute gentlemen and very gracious, especially when we had stood for hours outside draughty stage doors to see them.
Of all the people I have met however Ed Bishop was by far the best.  Sitting and chatting, he became a real person, not just someone who wore the face of a character I loved.  For a few precious hours we were friends and whilst it was only for that day, it was absolutely marvellous.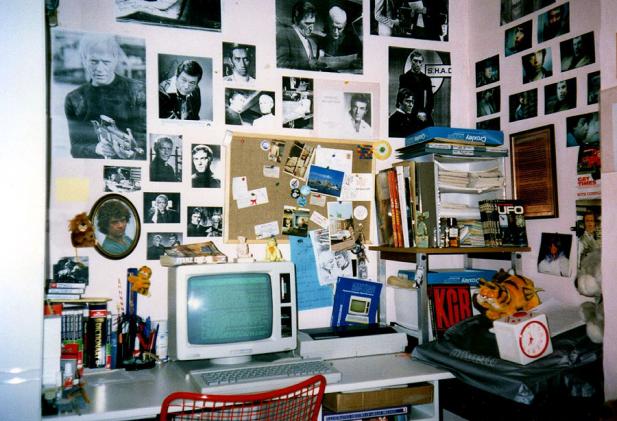 Spyder's Desk