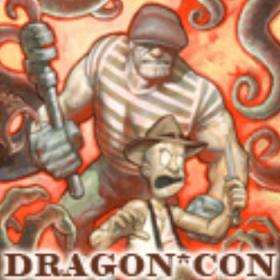 The UFO panel at Dragon*Con 2011 was great! And well attended, I think there may have been 60 or so people there. Alec Peters of Propworx joined me on the panel and was a great addition to the proceedings.
After a power point presentation on the original series and some rare behind the scenes photos, Matthew Gratzner (upcoming UFO film Producer and Director) phoned in to update us on how things are coming with the movie – slow. They lost a producer and have a new producer, the financial markets taking a beating is creating hurdles for them since they're financing independently rather than taking big money from a studio distributor. Casting news previously reported is likely out the window due to other commitments on the part of Joshua Jackson and Ali Larter, but they may still show up in the film.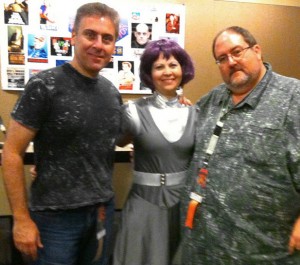 Alec Peters, Fetching Moonbase Operative, Anthony Taylor
Matthew was very nice to phone in and a really thoughtful fellow who is very much a UFO fan and committed to the original source material. SHADO will be very recognizable to fans of the original series as long as he stays involved with the production.
My interview with Martin Landau on Saturday was amazing! We spoke for about an hour and ten minutes, mostly about Space: 1999 (Martin wandered off-topic a couple of times, but only to tell some very cool stories about his other productions) and Martin even did a magic trick for the audience – he made a cigarette disappear and reappear a few times in a few different ways, tricks he picked up on Mission: Impossible.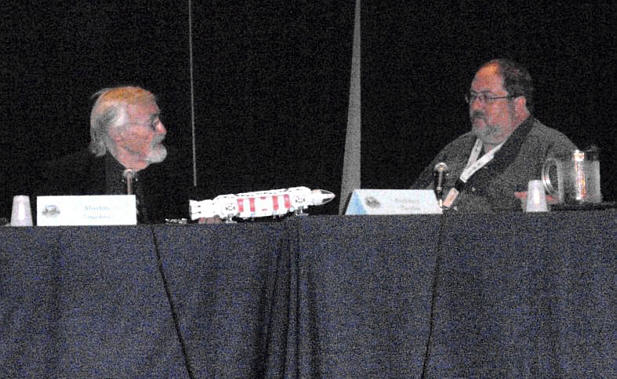 Martin Landau and Anthony Taylor
An audience member brought a beautiful Eagle model for us to display on the table, and when Martin saw it he exclaimed, "Look! It's my car!" About halfway through, I realized the model was made entirely of PAPER. It was really a cool thing to have there and you may see it in photos from the talk. I also videotaped the panel and hope to make that available at some point as well.
I hope to see more UFO and Anderson fans at Dragon*Con next year, and if you attended any of the talks about Anderson shows this year, please let Dragon*Con know you enjoyed them and want more in 2012!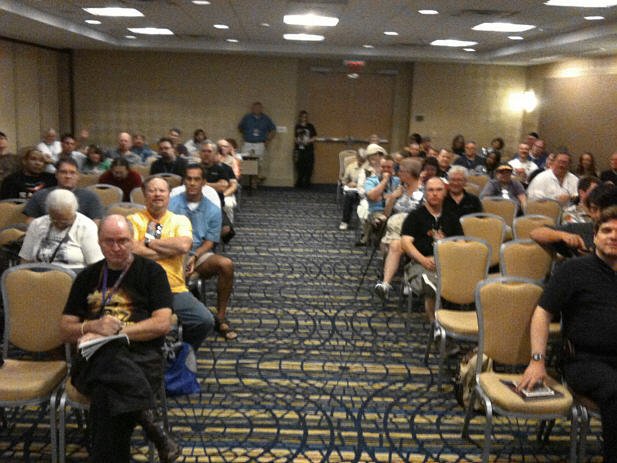 UFO Panel Audience