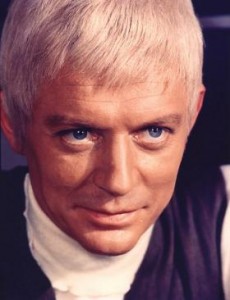 As the publisher I am happy to present you with our brand-new fanzine and newspaper for all and everyone interested in UFO and S.H.A.D.O., as well as Gerry Anderson's other works. As our staff writer Lt. Cmdr. Lightcudder was able to verify the works and applications of those people calling themselves "fans" are worthy of our respect and appreciation.
Hence I decided to herewith provide a platform for writers, authors, journalists, artists, modelmakers and readers, as well as admirers of any such artform. Our editors and staff will be happy to accommodate you, e.g. you can ask our Doug Jackson about any of your problems in his column "Ask Dr. Jackson". Ms Ealand will be happy to help you with all matters regarding subscriptions and mail to the Herald, and you can submit your works for publishing in one of the next issues either directly to the relevant staff or my secretary.
A short word regarding accessibility of the Herald articles…
Most of the articles and stories are available for all visitors. However, there also is content which we have rated adult. This content is visible only to those who have subscribed to the Herald. Doing so requires affirmation of being 18 years of age or older. Subscriptions are costfree.
I hope you will enjoy the Herald!
Ed Straker, Publisher