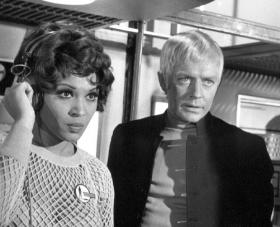 No man is an island, entire unto himself. Each of us is the product of the influence of many other people, from parents and friends, teachers and spouses, those we have admired and those we have sworn never to emulate.
As part of its rigorous training programme, SHADO gives each new member a questionnaire to answer. The results are then used to determine each person's role model.
Answer the questions accurately. (Calculators may not be used.)
Pick your favourite number between 1-9
Multiply by three then…
Add 3.
Multiply by three again.
The result will be a two-digit number.
Add the two digits together to get a digital root. (e.g. 34 = 3+4 = 7)
Now scroll down.
With that digital root number, you can see who your role model is from the list below. We have given you two options, one male, one female.
1. Mark Bradley/ Virginia Lake
2. Alec Freeman/ Miss Ealand
3. Lew Waterman/Joan Harrington
4. Paul Foster/ Ayshea Johnson
5. Craig Collins/ Mary Straker
6. Ken Matthews/ Catherine Frazer
7. Jim Regan/ Linda Simmonds
8. James Henderson/ Miss Holland
9. Ed Straker/Nina Barry
10. Peter Carlin/Gay Ellis
Any person with a score of 7 please report immediately to Dr Jackson for debriefing and a cup of coffee.