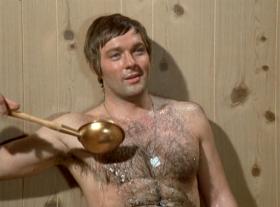 To all Staff:
Following recent consultations with senior management and in light of the current situation, there will be some restructuring of SHADO systems commencing 01.04.2011.
All staff should have received communications regarding the following necessary actions.
In order to maximise our resources, all senior offices will now be 'hot-desked'.  Please ensure that you remove any private and personal items from your desk when you leave at the end of your shift, including glass spheres and  obelisks,  although for Health and Safety reasons these should not be brought into the building anyway without a formal Risk Assessment have being undertaken.  A strict timetable will have to been observed to avoid the unnecessary embarrassment of having to share chairs.
Staff cars:
We will be  phasing out  company cars over the coming year. A pool of smaller cars will be available for use, but these will have to be booked for use by staff at least two weeks in advance. The current staff vehicles will be available for individuals to purchase at the current market valuation.  Please note that the  new fleet of cars will be powered by electric battery and will have an maximum speed of 35 mph. Staff should make allowances for this when planning journeys.
Staff Parking
All staff will be required to obtain a parking permit for use in all SHADO facilities. This will be charged at 1% of your current salary. Moonbase operatives will need to ensure that all Moonmobiles  are parked in  designated bays to avoid being clamped. Obtaining a permit does not guarantee a parking space however. If senior managers  wish to park close to the main foyer, they will need to arrive at a suitably early time. SHADO mobiles must not be used to clear a parking space and any driver found parking without a permit will have his vehicle clamped until the penalty has been paid.
Uniforms:
These will no longer be supplied by the company. Staff are requested to follow the following dress code that has been agreed between the union and Senior management;
HQ:
Female operatives:  Tight body hugging outfit. Big hair. Optional choice of colours.
Male operatives:  Jeans, T shirt (SHADO logo only please)
Skydiver;
Female operatives: Bikini. One piece costumes will not be permitted.
Male operatives: Jeans, T-shirt/String vest (optional, but preferred)
Moonbase:
Female operatives; Tight body hugging outfit. Female staff will continue to be provided with false eyelashes and eye liner.
Male operatives;  whatever… who cares. Unless you are Paul Foster, in which case you are required to wear a  skin tight silver jump suit unzipped to your waist.