Shado Marketing Department
A subsidiary of Harlington Straker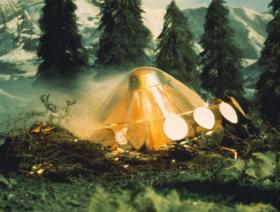 Spinning Through Space
The latest addition to SHADO's superb range of collectables.
SHADO Marketing are pleased to be able to announce their latest collector's item. This classic masterpiece has been carefully constructed to the very highest standards by our renowned Norwegian sculptor Olaf Pliro.
Olaf has gained a reputation for his meticulous attention to accuracy as well as his innovative use of some of the rarest materials found in the universe. True connoisseurs of his work already appreciate  the incredible  amount of detail that Olaf Pliro puts into his creations, and this highly desirable statuette is a tribute to his skill as one of the world's foremost craftsmen.
This exquisite model of a UFO, crafted by hand over many hours, will enhance any home. From the smooth glass-like texture of the dome, and the sharp bevelled edges of the fins to  the beautifully constructed and highly polished internal  parts that are visible, this model is sure to be a  greatly sought-after  addition to your SHADO collection.
This limited edition is available to order for one day only to registered SHADO collectors. To order your individually numbered UFO please contact SHADO Marketing. Each model will come with its own seal of authenticity and will be personally signed by the sculptor.
We anticipate that demand for these exquisite works of art will be high, so please call early to avoid disappointment.
Actual size:  diameter 30 ft x  height 20 ft.
Delivery charges to areas outside mainland UK will apply.
To reserve your Limited Edition UFO by Olaf Pliro, or for further information, please call 01042011.