Dear Dr Jackson.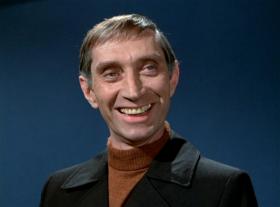 It's Spring again. I hate this time of year. My love life sucks, I can't get a boy friend and I spend most of my time stuck in a secret underground complex looking at a computer screen, or getting shouted at by my boss. Wherever I look I see lambs and bunnies and everyone full of the joys of spring. I am fed up. Please help.
Depressed
Dear Depressed,
I fully understand your state of mind. Seasonal Affected Disorder is usually associated with the dark days of winter, but the effects of Spring can be just as devastating to the unprepared SAD sufferer.
There are, however, several proven treatments for this condition.
Firstly, you need help to overcome the phobia that is connected with the onset of Spring. The fear of certain Spring-related items such as bunnies and lambs is a rare disorder that manifests itself in several ways. There is a very simple cure for this which follows a procedure known as 'de-sensitisation'.
As a specialist in Cognitive Behavioural Therapy, I am eminently qualified to provide you with the latest psychoanalytical techniques. We can work together to ensure that your fear of these creatures is soon a thing of the past and that in future you will grow to love them as much as I do.
There are two activities that need to be undertaken in your therapy sessions. I suggest that you attempt one desensitisation programme at a time though. I can assure you that this provides a permanent cure.
1. Bunnies
Next time you pass a shop that sells rabbits, stop and look in the window. Do the rabbits appear plump and in good condition? Yes? Then now is the time to begin your therapy. Go in and select one, then ask the butcher to cut it into four legs and 4 saddle pieces.
When you get home, put the rabbit in the fridge while you get things prepared.
You need a couple of tablespoons of finely chopped spring herbs, a lemon, some garlic, olive oil, a large pan that will go on the hob as well as in the oven and a bottle of white wine.
Squeeze a little lemon juice over the rabbit joints and season them with salt and pepper before rolling them in the herbs. (rosemary and thyme are probably the most suitable herbs to use )
Heat some olive oil in a hot pan and fast fry the rabbit joints until golden ( about 5 mins) adding a knob of butter and some sage leaves half-way through. Then add a clove of garlic (thinly sliced) and a large glass of white wine. Put the pan in the pre-heated oven at 200C/400F/Gas 6 for about ten minutes, before adding a big knob of butter.
Serve with wedges of roast potato and the rest of the bottle of wine.
Guaranteed to make you feel more benevolent towards rabbits in future. And you could always invite that hunky next door neighbour round.
2.Lambs
The desensitisation process for lambs takes a little longer however, and the preferred technique is to place a leg of spring lamb in a casserole dish, with garlic and sprigs of rosemary, season well and pour over a whole bottle of good red wine. Add sufficient stock to bring the liquid half-way up the joint.
Cover and place in a slow oven ( gas 2) for at least 5 hours. Serve with creamy mashed potatoes and new peas. You should find that your dislike of lambs subsides quite rapidly after this. however, if you require any assistance with this more intensive process, I will be only too happy to provide support at the final stage of the process as I am fully conversant in the technique.
I hope that I can discuss this matter with you at some stage. I can assure you that I am fully sympathetic to your fears as well as being able to make a very good mint sauce.
Dr Jackson