By: Ce Ce (author)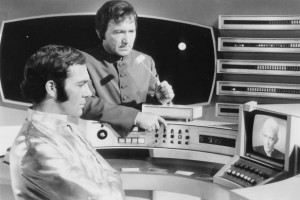 Michael Billington was born on 24th December 1941 in Blackburn Lancashire. The family, Michael's family, parents and older sister Marilyn later moved to the South of England.
Cinema fascinated the young Michael Billington. Michael not only enjoyed watching movies but also filming everything surrounding him with his own cine camera. Michael later had another fascination, riding his motorcycle at fast speeds. Michael's love of speeding around the hills of Ruislip led to him becoming an actor. Michael, needing to pay his speeding fines, approached his sister for a loan. Marilyn agreed on condition that Michael took a role in "No, No Nanette", her amateur dramatics company's first production. Fast motorcycles were also the backdrop of a story Michael wrote that was made into the movie "Silver Dream Racer" in 1980.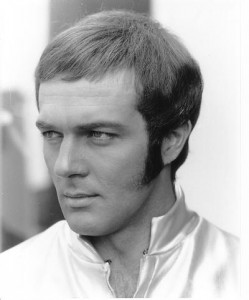 Although Michael loved acting, it was as a dancer that he entered the world of show business professionally in the early 1960's. Michael found an opening as a dancer, worked in the chorus of West End musicals "How to Succeed in Business without Really Trying "and" Little Me, and became a regular dancer at Danny La Rue's Theatre. Danny La Rue soon chose Michael to act as his stooge. Michael explained his role was to stand on stage in the themed costumes of the performance while Danny La Rue commented on Michael's physique and looks.  Michael's dancing ability is captured in Michael Winner's movie "The Cool Mikado" where Michael is seen floating across the dance floor in a number a scenes.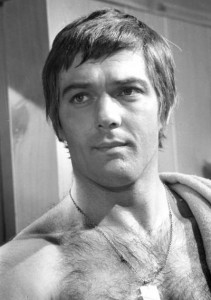 Following drama and voice lessons, Michael was successful in obtaining a role in the 1965 football soap opera 'United!' Michael's football talent during his 13 episodes in "United" earned him the offer of a trial with a football team, but he refused.  A more serious role in Theatre followed, "Incident at Vichy" with Alec Guinness and Anthony Quayle. Roles in the movie "Alfred the Great" with David Hemmings and  Patrick McGowan's "The Prisoner" plus time with "The Royal Shakespeare Company" playing a variety of small roles, followed.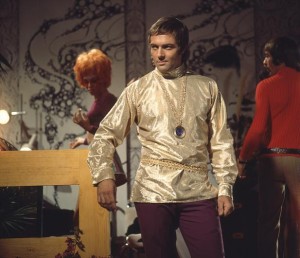 It was while Michael was in Cannes promoting "Alfred the Great" that his performance in "The Prisoner" came to the attention of Sylvia Anderson. Sylvia was looking for someone with the right credentials to fill the role of co-star to Ed Bishop to help satisfy the potential American buyers of UFO. Feedback from the American buyers suggested that the rugged, older George Sewell would not appeal to the American audience, so, the search commenced for someone younger and more attractive.
The role of Paul Foster in U.F.O. gave Michael worldwide exposure as an actor. When U.F.O. ended after just 26 episodes, Michael appeared in the UK series "Hadley" and as Daniel Fogerty in long running UK series "The Onedin Line".   With further roles in UK television in "War and Peace",   "Thundercloud", restoration comedy "The Way of the World", "The Professionals" "Sister Dora", "Spearhead" and portraying Tsar Nicolas in "Edward the Seventh", Michael proved his versatility as an actor. Michael also made guest appearances on  US television, including "Fantasy Island", "Gavilan", "Heart To Heart", "Magnum", "The Greatest American Hero", "Stick With Me Kid", "The Quest", "Phillip Marlow PI", "Today's FBI"  and a role in Shakespeare's "Anthony and Cleopatra"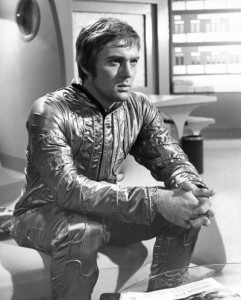 Although Michael  screen tested for the role of James Bond five times throughout the 1970's and 1980's and came very near to playing the role, the role of James Bond escaped him. Michael did however make a Bond movie appearance as Sergi Barsov in the 1977 Bond movie "The Spy Who Loved Me". Roles in movies "Flicks" and "KGB: The Secret War" also came before Michael co-stared with Peter Emery in UK television series "The Collectors".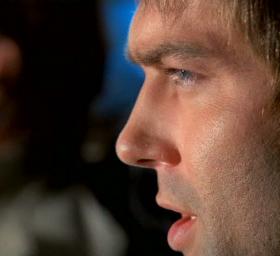 Michael took time out from acting to teach at Lee Strasberg Studio in London following his marriage to Katherine Kristoff in 1988. When Katherine died in 1998, Michael devoted himself to raising their son Michael Junior but made a further guest appearance in the UK TV series "Maigret" in 1993 and on stage in 2000 in the play "Never Nothing from No One" at the Cockpit Theatre London.
In later years Michael was a sought after guest at conventions. Michael's charm and humour when discussing his career made him very popular with fans along with his willingness to give advice and encouragement in person and over the internet.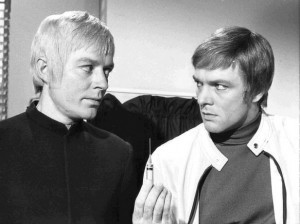 The final Convention Michael attended in March 2005 was with the "Prisoner Appreciation Society" at Portmeirion. Michael delighted the audience by performing in a spoof "Prisoner" episode and gave a talk to an enthusiastic crowd. No one would have guessed Michael was suffering from a serious illness and many fans were looking forward to seeing Michael at the September 2005 "Fanderson" convention along with Ed Bishop and Gerry Anderson.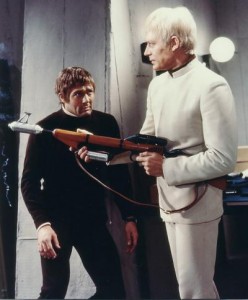 Sadly, Michael died on the 3rd of June 2005.
This account has kindly been written for The Ed Straker Herald by Ce Ce from the Mike Billington Fans website.
The pictures in this article can be seen full-sized in the photo-section.