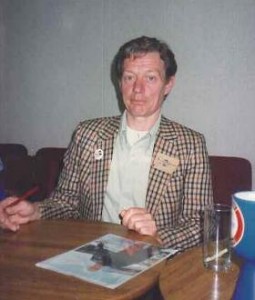 Ed Bishop, who died 6 years ago and only three days before his 73rd birthday, belonged to a small group of expatriate actors from the USA and Canada working and living in the United Kingdom. During his prolific career spanning almost 50 years he appeared in movies, on television and  on stage, as well as working on radio, as a narrator and voice-actor.
Though never achieving star status, directors regularly thought of him first, whenever an American was needed, as he was well-known for his professional attitude, charming presence and sonorous, quintessentially American voice, which bore more than just a slight resemblance to that of President J. F. Kennedy. He and his fellow expatriate Shane Rimmer used to joke, calling themselves "rent-a-yank" actors.
It was not his voice, however, which made him so recognizable. Above all it was his piercing, blue eyes, his straight, supple bearing and pleasing androgynous looks which aged exceedingly well. Instantly believable as a person of military background he was cast regularly in SF and war movies, even though he did not much like the first, and was an active campaigner against the arms trade.
The Early Years – Born in Brooklyn, raised in Peekskill and Studying in Boston
The youngest son of a Manhattan banker, he was born in Brooklyn at the Shore Road Hospital on June 11th 1932, as George Victor Bishop.
1939 the family moved to Peekskill, a small town not far from New York. There he attended  Peekskill High School, on record for having been the manager of their basket ball team  and somewhat of a prankster by former schoolmates.
About his family and their plans for his future Bishop says in an interview with FAB: "Well, my background is very WASP, White Anglo-Saxon Protestant – what you'd call middle-class, staid. My father's people left Guildford, Surrey in 1639 and settled in Guildford, Connecticut, so it is a very old, respectable and impoverished, I hasten to add, family. Everybody did everything that they were supposed to – you were a schoolteacher, you were a lawyer… so there was a lot of social pressure to go in that way. My father had been in banking, and there was a lot of pressure for me to follow in his footsteps."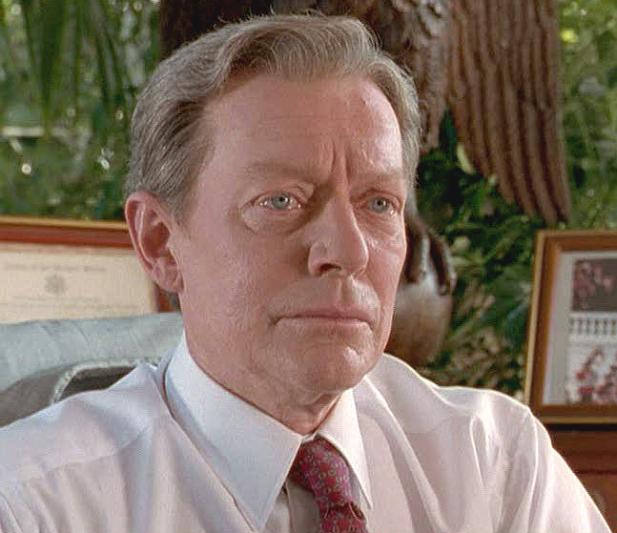 As Edward Banner in Highlander
His initial contact with acting happened in 2nd grade, circa 1939, when he played Benjamin Franklin. However, his first ambition had been the priesthood, which he left behind, when he – as he said – realised  there was no God. Decades later he would clarify that he went "all the other way" with his beliefs.
Bishop graduated from high school in 1950. He then enrolled in the Courtland State Teachers' College in Courtland , New York, but was dismissed after barely six months for "failing to maintain a proper academic standing."
From 1952 to 1954  he served in the US Army as an army radio announcer and disc jockey,  presenting hillbilly and western music on Station VOUS. He recounted once: "I was very lucky through a lot of crazy circumstances that can only occur in the Army. I was a radio announcer and disk jockey in Saint John's Newfoundland, Canada. I got involved in some amateur dramatics there [St John's Players] and I really got bit by the acting bug." On another occasion he said about his time there: " That scar on my lip  –  I got that  in the army when I was talking when I should have been listening."
Freshly discharged with the rank of a corporal,  Bishop went to work for Remington Rand Incorporated in Buffalo, New York, for a year, before attending the Business School at the prestigious Harvard University in preparation to follow his father into a career in banking. He married Jane Thwaites in 1955, although the marriage was soon after dissolved.
1958 he told banking to go to hell and switched to Theatre Arts, graduating with a Bachelor of Fine Arts Degree, and earning himself a Fulbright grant to study at the London Academy of Music and Dramatic Art where one of his fellow students was Donald Sutherland. He aimed at returning to the USA, but after meeting British and expatriate film actors, he decided to stay: "I was here in London for the duration."
The Later Years – Living and Working in Great Britain
He left LAMDA on July the 14th, 1960, and had work at a theatre in Croydon by August. It was then that he adopted the first name "Edward" to distinguish himself from an already established actor.
About this name change he said: "There was already an actor in Equity called George Bishop. You can't have two actors with the same name so I had to choose another, and that is why I became Edward Bishop. It's very hard to change your name mid-stream. I was about thirty years old, and to suddenly have to change your name is kind of amusing, so I just went through the names and Edward seemed alright. And then later when I worked with Gerry Anderson he suggested that I should drop the 'ward' off the Edward so that is how I became Ed Bishop."
This effectively cut off his private personage from the actor. Where later fans and acquaintances would call him Ed, not just due his stage name, but also because "Ed" is the first name of his most famous role, neighbours, close friends and family would know and address him as George.

As Jay Garrick in Whoops Apocalypse
News he received from former fellow students from Boston did not sound so promising, instead they washed dishes and cars, or worked in diners to make a living while waiting for roles. Thus  Bishop felt supported in his decision to stay due the better work opportunities in Great Britain: "[After Croydon] I got into three consecutive West End productions, one right after the other. As a matter of fact, when they put the notice up that one musical I was in was closing , I was rehearsing during the day on another show. So I had three shows, a year and a half had gone by and I hadn't stopped working. It was incredible!"
His television debut was a televised play called "Edge of Truth", part of Granada's Drama 61 series. Roughly at the same time he played his first still uncredited feature movie role as an ambulance attendant in Stanley Kubrick's "Lolita". A few months later he received his first movie credit as Colonel Voigt in Philip Leacock's "The War Lover", starring Steve McQueen and Robert Wagner.
In 1960 he met his second wife Hilary Preen, an economist, whom he chanced upon when sightseeing in Trafalgar Square. Bishop married the Englishwoman at Caxton Hall in 1962.
During an interview, roughly ten years later, he says: "I met her at a demonstration [in Trafalgar Square] one bright Saturday afternoon. I can still remember to the most minute detail everything she was wearing […] Anyway, it was very crowded, but for me, she just stood out. I thought she was foreign. She certainly looked it with the white kerchief tied around her head. She was looking up at the statue of Lord Nelson, and I braced up enough to go over and talk to her! You know how you talk to foreigners, articulating every word? Well, I said to her That's L-O-R-D  N-E-L-S-O-N and she slowly turned around, lowered her dark glasses and said I beg your pardon!! I could have died with embarrassment."
They went to New York the next year for his Broadway debut as Villenosse in David Merrick's production of The Rehearsal, but returned to England in 1964. The same year his first child, his son Daniel, was born. The couple had three more children, all daughters, Georgina (1967),  Jessica (1968) and Serina (1971).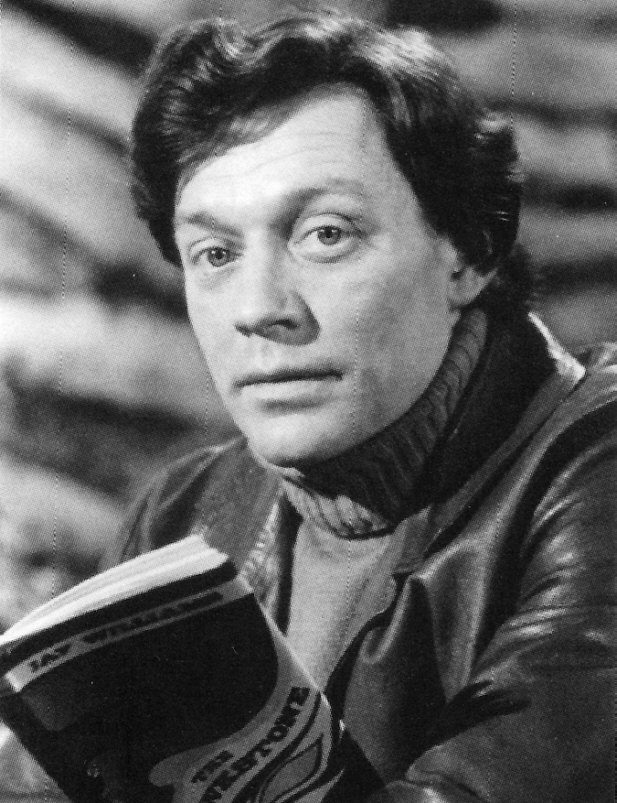 Ed Bishop Reading for Jackanory in 1974
Back in London he gave his first performance as a puppet character, as the voice of Paul Starr, Space Agent, in a colour pilot written and created by Roberta Leigh. At the time voiceover work kept his family in babyfood and diapers. More television and stage work followed, until his – one has to call it that – fateful first contact with Gerry Anderson, starring as Captain Blue's voice in the 1967 supermarionation TV series "Captain Scarlet and the Mysterons". Gerry and Sylvia Anderson of 21 Century productions would remember Bishop and provide him with a second appearance in a cult TV series only shortly later.
"'Captain Scarlet' will always hold a place in my memories as a wonderful project to have worked on," Bishop once said. "We worked two days a month, and we took all day to do four episodes. We would do two episodes in the morning, have lunch and then do two episodes in the afternoon. The pace was leisurely and there was no pressure on us from Gerry to 'get it in the can quickly'. Every actor received the same fee per episode – £15.15s – so there was never any tension over money. It didn't matter whether you played the lead role of just came on and said one tiny part, every actor got the same money."
This may sound little, but at the time it was the equivalent of £429, which means that with four episodes a day he had earned  the equivalent of £1716 – or a month's salary.
Also in 1967 Bishop got rave reviews for his portrayal of John Ken O'Dunc in Joan Littlewood's staging of Barbara Garson's 'Macbird!'. Macbird! was a satire of Macbeth on US politics and the Vietnam War. Bishop's character was a barely veiled caricature of John F. Kennedy. Of this he once said: "While I was working on Captain Scarlet, I was enjoying a huge personal success in Macbird! Joan Littlewood, alas, paid no wages – she had no money! so I will always be grateful to the Captain Scarlet project for helping me to support my young family at a crucial point in my career."
However, he also featured in several movies, the most important being Stanley Kubrick's "2001" (1968), in which he had a small role as the Aries-1B pilot. Originally his role was much larger. Most of it ended up on the cutting room floor, in the finished movie he is only seen briefly without audible dialogue.
In 1999 he said during a convention:
"However I must just dwell momentarily on the Kubrick thing. I had a tiny part in Lolita, just out of drama school, the first film I ever did and I had just met this man that we at drama school were all in awe of, Paths of Glory and Kubrick. After Lolita he was so complimentary. He called me up in my home one day and says he has got this film 2001 and had a part for me. I was appearing in a West End play at the time and drove out to Borehamwood to meet him. I had nine days on this film. I had some wonderful scenes but unfortunately they were all cut. I am hoping now that somebody will get the rights to them. Kubrick never threw away anything. Everything was totally controlled. When we were making the film there were other guys making a film of us making the film. So you could sit down and be talking to somebody and you would see this stick mike come up. Then there would be some guy there with a camera. So somewhere there is a documentary film of Kubrick making 2001. He had total control. Most of us worked on several levels. I just could not handle this control thing. A lot of actors blew out on that. It got to the point on day 8 when he said good morning that I started to wonder what he really meant. It was a very unhappy experience."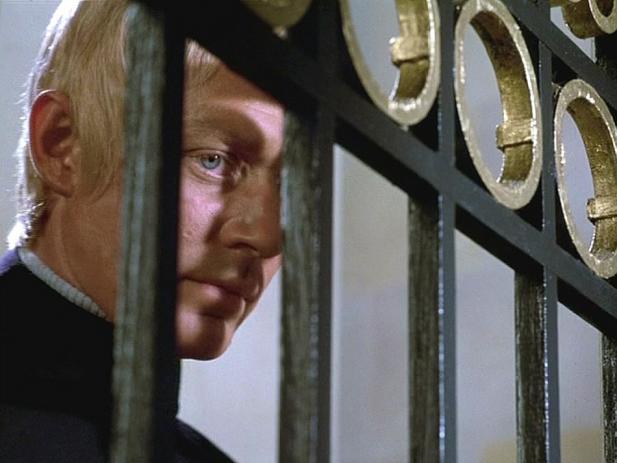 Cmdr. Straker in Identified
In the summer of 1968, Bishop worked a second time for the Andersons as NASA liaison David Poulson in their movie 'Doppelganger'. Some scenes had already been shot with Peter Dyneley as Poulson, but they realised that they had a problem after looking at the rushes.
"I was a cast replacement because Patrick Wymark had a lot of scenes to play with this one character and Peter Dyneley was playing the part [of Poulson]." Bishop once said. "The guys looked at the rushes and said, 'They're too similar.' They were both portly, middle-aged men who looked and sounded very very similar, so they thought that they would revamp it and just get a younger actor in. They tested me, Shane Rimmer and a couple of other guys and I just landed the part. I was very lucky."
It was this role which prepared the way for one of his most known roles – Ed Straker. Intriguingly "Doppelganger" also featured George Sewell, who would be Straker's second in command. Indeed, Bishop met quite a few of his later UFO co-stars on earlier movie, television or stage sets, for instance Shane Rimmer, with whom he was friends for nearly forty years, during "You Only Live Twice" and  Suzanne Neve while filming "The Portrait of a Lady."
Asked how he was offered the part of Ed Straker he said: "My next door neighbour was building a garage and he asked me if I'd help him unload about 40,000 bricks off this truck. It was a hot summer's day and we were sweating to death when my phone rang. It was Gerry Anderson's office asking me to come to the studio immediately. I asked the girl what it was about and she just replied, 'Something to your advantage.' Now you can't deny a call like that and it was a hell of a lot better than the bricks."
The Andersons asked him to star as Commander Ed Straker in their new science-fiction series UFO. 17 episodes would be filmed at the MGM Studios in Borehamwood in 1969 while the last 9 would be done at Pinewood Studios in 1970.
"I don't think they looked at anyone else for that part. They showed footage of me in Doppelganger to Lew Grade and the guys from ITC and on the basis of that I was Straker," Bishop recounts. "They said, 'We're going to shot the episodes on ten day schedules,' and, 'Well, Ed will be needed about three days out of that.' But Tony Barwick and the writers liked the character so he began to get more and more, so at the end I was working every day. The character kind of took over. But I must say I did enjoy it very much."
Sylvia Anderson had Bishop dye his light brown hair ash blond, which did not meet with his unmitigated joy. On various occasions he told his fans how much he disliked the visits to the hairdresser: "We started out cutting my own hair and colouring it, but every ten days I'd have to get the roots done and I was worried about the damage to my own hair that heavy bleaching would cause." However, the alternative also was not much to his liking. "I asked if there was any [alternative] and they ended up making this sort of helmet wig. There were about three made because one was at the cleaners all the time."
He would take one of these wigs with him at the end of the filming and used it repeatedly to spoof Straker. He kept two further items, the glass sphere (which later was stolen during a convention) and the wristwatch. Engraved with the names of Gerry, Sylvia and Reg, it was a gift from the producers of UFO, and he wore it in most of his subsequently filmed movies. Though meant to belong first to his son, then later to his eldest grandson, the watch today is in Italy on display at ISOSHADO.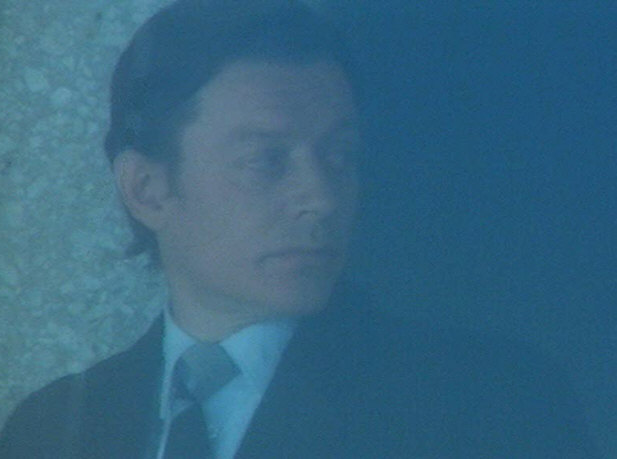 Ed Bishop as Mr. Smith in Madame Claude
In the beginning Bishop was supposed to have an Italian co-star, Franco Derosa as Moonbase Commander Franco Desica. "I met him a couple of times. I had no scenes with him, but I heard all these horror stories that he was just totally inexperienced, he couldn't remember his lines and couldn't hit a mark. It was a good idea, because he looked terrific, but on such a tight schedule you couldn't afford any fat like that. Everybody had to be on the ball, know their stuff and get on with it, but Franco was too inexperienced. It was a shame," he recalls. "And then Peter Gordeno left, because he had some commitments to honour, but they weren't worried about me – the old fart, old reliable, old Yellowstone – because they knew I could remember lines. Sit me behind the desk, that was the concept for Straker. He was going to be sitting there hard-assing everybody."
There were several changes to the regular UFO cast. Bishop was the only actor to appear in all episodes. George Sewell,  Keith Alexander and Gabrielle Drake had to decline after the move from Borehamwood to Pinewood.
"I myself personally claim the credit for bringing in Wanda Ventham as Straker's number two because they were looking at a lot of different actors when George Sewell left and I don't know whether I was just afraid of them bringing in another actor who would maybe compete with me – there's probably a portion of that – but I just felt somehow instinctively that we should get a woman," said Bishop during a convention. "I had three daughters at that time, my wife had been to university, and attitudes to women were kind of changing, so I put in that idea. I didn't suggest Wanda per se, but I did suggest and push that they consider a woman, and I'm glad to say they picked up on it and brought Wanda into the picture. I really did enjoy working with her."
"Looking back at it there was no sexual tension between Straker and Colonel Lake – they were just good friends. I always think of it as like Laurel and Hardy, sitting up in bed together: even in this permissive age, there's never any smattering of any kind of relationship other than that which you see on the screen. It's a pure cinematographic theatrical event that you accept totally. I mean I've never read anybody writing a treatise on the latent homosexuality of Laurel and Hardy! It just didn't exist. With UFO there was just some magic or other between Wanda and I. We just achieved that chemistry but the sexual thing just never came up, although she was a beautiful woman. I was younger then, so a sexual relationship between the characters could have been possible, but I think it worked well as we played it."
Though Bishop preferred the Pinewood episodes, he always cited three of the Borehamwood episodes as those that he was particularly proud of:
"I think my favourite ones would have to be the two that I did with Suzanne Neve, when it was Straker in flashback [Confetti Check A-O.K.], and the situation with his son [A Question Of Priorities], because actors would prefer to get involved with inter-relationships, rather than gadgetry. A Question Of Priorities is very illustrative of the character of Straker because at one point someone asks him if he did right in diverting this aircraft off to fight the Aliens instead of using it to help his son. Straker says 'Yes, it was the correct decision,' which indicates that he is a pretty dedicated guy – a dedication far and above what one would usually expect. I enjoyed Confetti Check A-O.K., the one with all the flashbacks to how it all started, because it was able to show a lighter side of Straker, before all the angst set in. I also liked Sub-Smash. It was a typical thing of guys trapped and meeting their doom so their personalities came to the fore. We had a lot of controversy on that one. Straker thought he was going to die – he's in the submarine and he told Foster to get off the boat, because he was the only guy who could get away or something like that.
So he's making this entry into the diary and I took a little verse from the burial at sea. I said, 'We therefore commit ourselves to the deep,' a little schmaltzy, but it's very moving. […] Well, everybody in the UFO crew was divided over this line, because in a family everybody expresses their opinions, and some said, 'Oh, it's schmaltzy sentimentality,' but I thought it was kind of interesting: here's this guy with all this power, all this authority and all this omnipotence, with all this secretiveness, and yet at a time when he's close to death he thinks about something that's very simple. l thought that contrapuntal thing was an interesting facet. I would find that interesting about a guy like that if I saw it on-screen."
In Sub-Smash Straker's affliction with claustrophobia is thematized, resulting in some of the finest acting Ed Bishop did in his career, bringing the emotion right onto the screen, raw and potent. How private a thing this was he explained once talking about "2001":"I do suffer very badly from claustrophobia, and it's bothered me a couple of times. In '2001' I was the pilot of this spaceship and there was a wonderful scene where this elevator opens and I step out. But before waiting for the shot to start I was really getting panicky. There was nothing Mickey Mouse about Kubrick's set- every single thing worked, and this thing actually locked. I didn't get out until some guy pressed a button so it was like being in a real elevator – you don't get out until the mechanism lets you out – so I was really getting quite bad on that."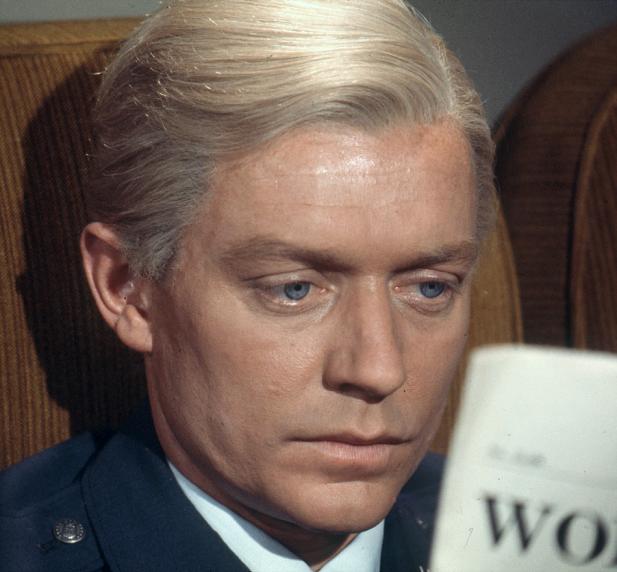 Ed Bishop as Col. Straker with dyed hair
While he declines, on the whole, any similarity between Straker and himself, here and on a few other occasions he obviously delved deeply into his own soul. Many years down the road he said about UFO, asked about what he would be remembered for after he was gone: "Whether I like it or not, it's going to be old Straker in UFO. A lot of actors think that things they have done like Captain Scarlet and UFO is all water over the dam and they don't like talking about it, but l can't understand that. If people applaud your work so many years down the pike, it's flattering. I feel very humbled by it."
Regarding the failure of making a second season,  Bishop said in an interview: "The professional relationship was made in heaven, 'cause Gerry was an expert in what he did and she was an expert in what she did, and the two of them combined, that was a double whammy you couldn't stop. But unfortunately life got, as it sometimes tends to do, got up to its tricks and it didn't work out."
Soon after UFO he made an uncredited appearance as radiation specialist Klaus Hergersheimer, in the Bond film "Diamonds Are Forever" (1971). Bishop shared all of his scenes with Sean Connery and reported how very much he enjoyed the experience, despite repeatedly blowing a  line:
"I had a tiny tiny part as a character whose name was Klaus Hergersheimer. And there is a sequence when Bond sneaks into this dome, out in the middle of the desert. You know he wants to find out what these bad guys are doing there. And the first guy he sees inside the dome is me, Klaus, and I am walking down the aisle. And I see that he does not have a radiation shield. So I say 'Excuse me where is your radiation shield?'. He says, 'well I am waiting for you guys to send me one' quick as a flash. No flies on Bond. So I have my nameplate on and he gets my name from my nameplate. So I say, well you are lucky I happen to have a spare, so I give him a spare. So he goes down the corridor and gets a white coat and goes into this lab where all the bad guys are and says, 'I am Klaus Hergersheimer, and I am checking radiation shields.' So he does this 360-degree pan with the camera and gets all the input that he wants. Then he goes out the door and I immediately come in the next door and say, 'I am Klaus Hergersheimer and I am checking radiation shields' so then they start to move in on me thinking that I am a phoney. Now Klaus Hergersheimer is not the easiest word to say in show business so now after they have set up this scene which goes on for around a minute and a half, they do this pan and he says I am Klaus Hergersheimer and goes out the door. I come in and say, "Hi, I am Klaus Hergerschmeyer".
"You can imagine the embarrassment in front of this whole Bond crew. Actually I must throw in something here. I blew two takes on that, I don't know why. But after every take that I blew, Sean Connery he could sense my embarrassment, he would say in a very loud voice 'Oh I am sorry Peter' (that's Peter the director) 'I was way off my mark there, we would have to go again anyway'. He made the blame look like it was on him. Which I thought was very creditworthy. It was very terrifying you know. I would be standing behind the door with my clipboard waiting. I would hear Derek Cracknell the first assistant say, 'turn over, sound running' and then we hear a guy say 'mark it' and then the clapper board comes in and the director says 'action'. So after the first two takes, we go through all this 'turn over, sound running, mark it, clapper board, scene whatever it was take four and then the director said, 'Klaus Hergersheimer, Action!' Oh talk about trauma! What a way to make a living"
1973, Bishop who confessed to not having been ambitious at all, made his only foray to Los Angeles to see if he could start a career in the USA, giving himself half a year. He proved to be unlucky in chosing the time of the big Screenwriter Guild strike, which meant that even more actors were competing for much fewer parts. The Guild sought greater wage increases from the major television and movie producers and the writers did go on strike in March of that year. The walkout lasted 4 months, nearly all of his stay in L.A..
To support himself Bishop worked as an unskilled labourer, taking on every work he could find, yet growing unmistakably thin over the course of these 6 months.
He managed to get the voice role of Asmodeus in the animated Star Trek series and played Vincent Stackman in Raphael Nussbaum's Pets (1974), a wealthy, weird art collector who turned out to be a whip-toting misogynist, keeping female animals and women as pets for his own warped pleasure. Originally a Broadway play, Pets was filmed as a slightly risqué  sexploitation movie with quite some nudity. It was the debut of actress Candace Rialson, later filming with Derren Nesbitt, another UFO actor, and Clint Eastwood, in "Where Eagles Dare".
The movie has pretty much immediately achieved cult status and is to the day a much sought after rarity. At least 3 different versions exist, with the European being the one having the most nudity and the US one the most violence.  While resented by some fans, it does have a solid following among other, usually male fans both in Europe and the USA, who rooted enough for it to seek out Ed Bishop autographs.
Bishop soon realised that in America he was just another actor, one of thousands all competing for roles with each other, whereas in Britain, he was part of a much smaller crowd. He returned to London and made England his permanent home.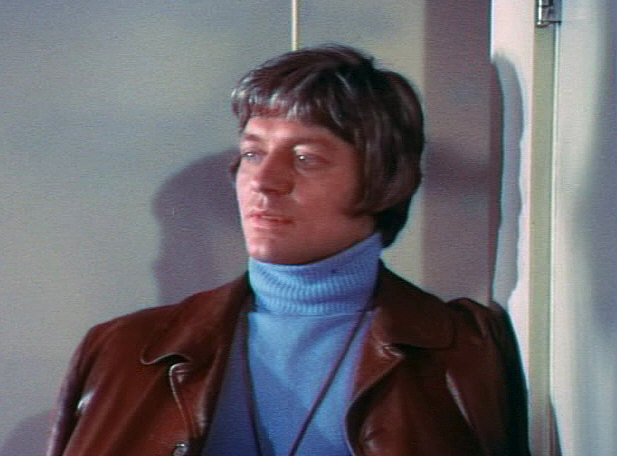 As Vincent Stackman in Pets
He has appeared in or worked for more than just one movie heavy on either sex or nudity, and explained much later in his life, that for him work was work, and paid for food and family.
Among those was "Sex Play" (1974) in which he had the role of Secretary Beard, American foreign minister in London, who is seduced by the nymphomaniac 16-year-old daughter of the US Ambassador. Another would be the killer in Madame Claude, a movie which incidentally features more nudity and heavier sex scenes than Pets, albeit also considered cult in France to the day. Bishop plays a chilling killer, and one has to see the death scene to realize with how little screen time he established an utterly frightening murderer rivalling some of the much more elaborately played movie killers. And of course his part as the narrator of "Nudism – The Inside Story" (1992), which managed to coax an invisible, but unmistakable grin from his normally so workmanlike voice.
All put together Ed Bishop appeared in over 110 movies, TV movies and television shows and series. Among them such gems as "The Professionals", "The Saint", "Chocky's Children", "Highlander" or "The Mad Death."
His IMDB page contains a comprehensive list of his work.
He created a definitive Philip Marlowe in a series of adaptations for BBC Radio 4, and probably as a voice actor was as much known for these dramatisations of Chandler, as for his work in advertisement or recording audio books. About this sphere of his work he said:
"With radio, you have to convey everything in the voice. There are lots of little shorthand techniques: for example, when you 'meet' somebody on radio, if you just reach out and shake your hand, that 'How do you do' will be somehow registered in your voice. When l started out, I'd watch these old actors who'd done millions of radio shows, like Carleton Hobbes and Frankie Francis – all wonderful people – because before television took over, radio was really prestigious. If you were on a Saturday Night Theatre on the BBC, that was like playing the lead in the National Theatre. And I was pleased to be able to work with that generation of actors, because to watch those guys work and listen to them and the subtlety that they could manifest was wonderful. l remember working with a wonderful director: I shrugged my shoulders in a line and he said, 'Don't do that, Eddie. Get the shrug in your voice,' which is very clever So it's always a challenge, and it's a mistake to think that you can just walk in, read the words and go away. But l love the medium."
Bishop did his final television role only a few months before his death. As Secretary of War Henry L Stimson, he was seen in in the BBC1 docu-drama Hiroshima, his last voice role was for an independent musician's album, just weeks before his death .
He smoked a pipe and cigarillos at one time, but apart from that and Guinness he had few vices. After his son Daniel died 1988 in a car accident, he became an active supporter of Greenpeace and the abolition of the arms trade, organising and attending demonstrations – partially to carry on his son's work. According to Paul Birchard his political views could be described as "defined not so much by left and right as by right and wrong."
He met his third wife, the photographer and artist Jane Skinner, while gatecrashing an arms-trade fair at Aldershot in 1993 dressed as General Pinochet! Bishop was divorced from Hilary in 1996, and married his third wife in 2001.
Ed Bishop's hobbies included gardening, watching old movies and DIY. These skills were needed when he bought an old farmhouse in the Warwickshire village of Napton and did a lot of the restoration. He also set up a local amateur dramatic society and staged a number of plays. He was reported owning once a Teckel and liking dogs in general. His wish to one day "sell everything and buy a large sailing boat in which to sail around the world, following the sun and doing as little work as possible," unfortunately never fulfilled itself.
Never an egoist Bishop was known for his self-effacing modesty. Describing himself, he said, "I am totally, totally unambitious. As long as I'm making a living, that's fine. One of the reasons I got along with Mike Billington very well is that he was very ambitious, and l applaud that, but I've been very lazy in my career. I've never had any kind of plan to it at all. As long as the phone rang and l was making a living, l never worried about anything.
If they cast me in similar parts, l never said to myself, 'Wow, I've got to get out of this mould.' I'll play all the generals and rich executives and captains of industry they want. As long as you're in demand, and your craft is sought after, why should l try to tamper with that? 'l just love my work so much that I feel flattered and amazed that people pay me to do if. 'I'm amazed that somebody recognises me in the street, you know. I was standing in a doorway in Soho and a very well-dressed guy in his 30's stopped dead in his tracks. He spun around and says 'You used to be in U.F.O.' I said 'Yes, that's right!'. He says 'You're Ed Bishop!' I said 'I know!'"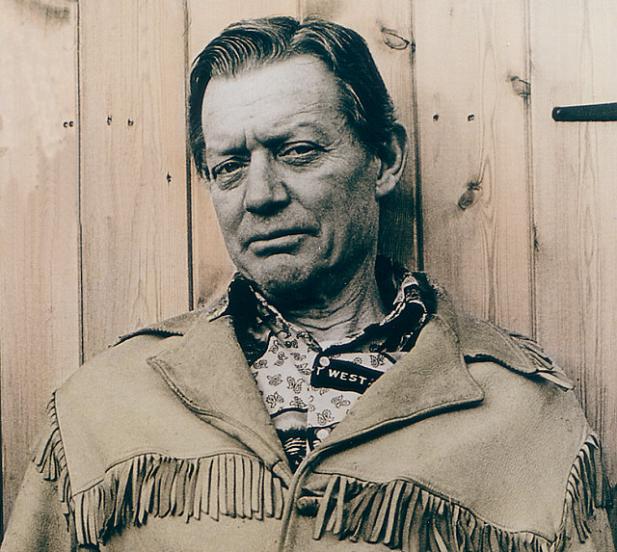 Ed Bishop ca. 1998 looking at Jane Skinner
Part of his generosity was his willingness to sometimes work even for minimal wages with new talent, as for instance when he agreed to a reprisal of his UFO role in Adrian Sherlock's Shadowfall. Another part was his kindness displayed in comments about others and his availability to his fans, on conventions and with his tireless and prompt responses to fanmail. Always gracious, always willing "to give some of what he got back."
George Victor "Ed" Bishop died on the morning of Wednesday, June 8th, 2005 at a hospital in Kingston upon Thames, Surrey, three days short of his 73rd birthday, from a chest infection. He was buried in the graveyard of St Lawrence Church in Napton. Bishop's epitaph reads: From This Valley They Say You Are Going. We Shall Miss Your Bright Eyes And Your Smile. His grey sandstone tombstone has a peace symbol prominently engraved on it. Its design is very similar to the one situated two metres on the right, which marks the grave of his son Daniel.
He is survived by his wife Jane and his three daughters Georgina, Jessica and Serina. His life and work was honoured at the British Academy Television Awards in May 2006.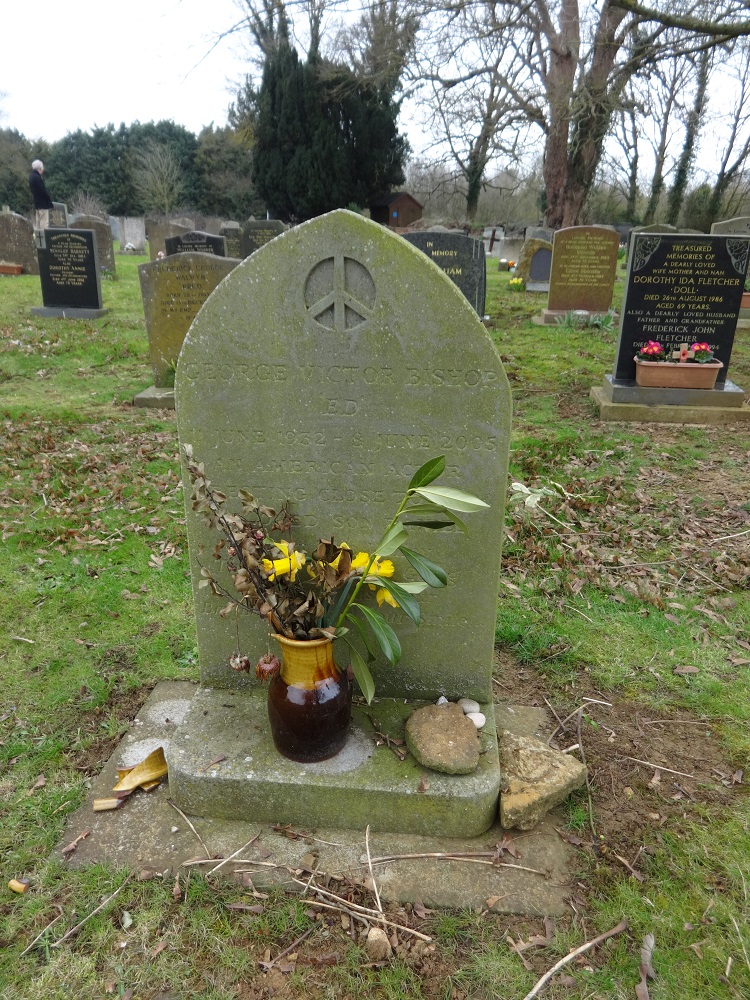 Photo by Lightcudder
This biography has been written perusing a large variety of resources, most noteworthy are Chris Bentley's UFO book, his article on Ed Bishop in 2005, many convention reports, obituaries from the UK and the USA, several interviews, as well as accounts from people who met or wrote him. My thanks to them all!