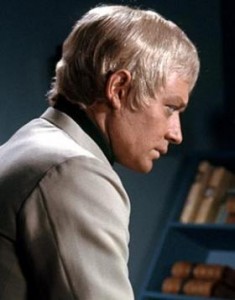 Respect. It's a short word. Two syllables. A noun. The dictionary defines it as:
1. an attitude of deference, admiration or esteem.
2. The state of being honoured or esteemed.
In this month's editorial I wish to pay my personal respect to those actors, who over the years, were involved in Gerry Anderson's productions, in particular UFO. As the years pass by, those of us who remain dedicated still honour his amazing work, but regrettably, every year the actors who once entertained us and thrilled us, whose voices even now still make us pause, and remember, those actors are leaving us.
Until, eventually, all we will have left will be fading photographs and dvds. And memories.
It is our responsibility to work together, to share our knowledge, our resources and our skills. To open our minds, and accept that, if we want to succeed then we have to be willing to change. To change our attitudes to new opinions, new ideas, new findings. To welcome those who actively seek to promote and share the wonderful fan work that is being done even now by artists, writers and modelmakers, and to comment on those things we admire, to let people know that we care. We should not hide behind closed doors, too scared to really look at the legacy that we have been given by some truly great and yet vastly under-rated actors.
More importantly, we need to look beyond our childhood recollections, and to watch the episodes with an adult's eye. Not to look for the flaws, the mistakes or the bad editing, but to look instead at the characters that we have there, in front of us. To see the reality, however much it might differ from our original viewpoint. Otherwise we are in danger of becoming like Chinese Whispers, moving further away from the true meaning of the episodes every time we portray a distorted or biased opinion without studying the reality.
The article about Mary Straker will no doubt raise some controversy, and yet it is the result of a long and difficult debate. You may not like the facts as they are presented, you may disagree with them, but the facts are there. For everyone to see. The article is not an attempt to denigrate Ed Straker; it is a well-thought out and reasoned argument that seeks to show us how much thought went into creating the character of Straker. Those actors who gave us that scene did not do it by accident. It was a deliberate and conscious decision to portray the events in that way. Painful to watch, but a superb piece of acting by both Ed Bishop and Suzanne Neve.
Ed Bishop was accused by some people of being 'wooden'. Far from it. He was, in fact, a superbly talented and gifted actor who could express himself with a single look or a slight movement of one hand. He could steal a scene by standing in the background and simply folding his arms, and he brought a depth and a quality to the character of Commander Straker which has ensured the continued popularity of the series even after all these years. His 'Ed Straker' was a real person; human, flawed, emotionally damaged and all the more wonderful for that.
And what of the other actors? George Sewell, Michael Billington, Vladek Sheybal, and of course Gabrielle Drake and Dolores Mantez to mention just a few. They, too, brought their own special strengths to UFO, and enabled us to live, every Saturday evening for 26 weeks, in a world of aliens and UFOs and Moonbases. I thank them all and hope that in some small way The Ed Straker Herald will enable their work to live on.
Yes, UFO is a 'dead' fandom. Like many small fandoms it has its detractors, its enemies, and those who wish to keep it to themselves, who reject any new ideas; but it will only really 'die' if we allow it to, by our wilful neglect and our inability to openly rejoice in sharing our knowledge and our experiences.
Remember one thing. The older you get, the more precious UFO becomes.