Jackson. Investigate the following:
http://www.fanderson.org.uk/fansales/fansale2.html#Order
Report to me a.s.a.p.
Straker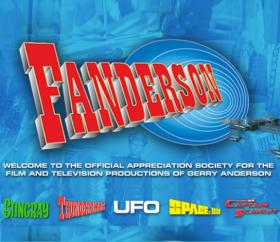 SHADO report: Ref: 124105AcFanSa
Commander: I have ascertained the following facts. Fanderson is an organisation which allows its members access to specific items that SHADO provides for its employees. I acquired some of these items as part of my intensive research and herewith are my findings.
The introduction to Fanderson states that it is the official appreciation society for the works of Gerry Anderson, and covers everything from Supercar to New Captain Scarlet, including SHADO, although this fact is hidden by the use of the less well-know term 'UFO'.
I applied for membership of the organisation, (my expenses form is attached) and ordered several items. My initial concern was that is it difficult to assess items from a photograph on a computer screen and the quality of individual items is hard to ascertain. My purchases were all restricted to SHADO items: a key-ring, stickers, patches, a CD. As a psychologist my interest was primarily in the acquisition of these items and what clues they might hold to the mind-set of the people running the organisation.
I expected some delay in receiving the goods as it was necessary to send my requirements by what is commonly called 'the Postal Service' and requires the purchase of a stamp. However, this was of no real inconvenience and I was pleasantly surprised when my order arrived within three days.
It was extremely well packaged; in fact at first I thought that part of the order was missing, but the stickers were in a separated envelope inside, no doubt to prevent any damage from the heavier items, although these were also wrapped in bubble-wrap. This indicated a serious level of commitment to providing an excellent service.
My analysis of the individual items is below. Each was subjected to extensive examination and rigorous testing, as well as thorough security checks. They are currently being held in secure storage in the armoury, in the event of alien matter that might have been introduced at asub-atomic level within the items.
Patches:
• SHADO sew-on patch. A high quality item, slightly larger than anticipated, but extremely well made. The design is clear, the colours sharp and the outline accurate.
• Harlington Straker sew-on patch. Again, high quality. A discreet and unobtrusive patch that is probably only purchased by the more knowledgeable SHADO fans.
Both these patches were subjected to the ultimate test. .. being sewn onto a canvas shoulder bag and subjected to the rigours of the British weather. There were no adverse effects, although Lt Johnson complained that the superb quality of the patches made it particularly difficult to sew through them by hand.
Stickers:
• SHADO Sticker. Several of these were purchased, as they were considered to be at a very reasonable price and well within the petty cash budget. Fanderson claim that these stickers are guaranteed for useage on space vehicles, but as I had no access to the lunar shuttle, I had to revert to another form of transport. You will not have noticed, Commander, the small logo on one of the mobiles? I am pleased to say that the sticker has coped with the very worst of atmospheric conditions: temperatures of below minus 20 degrees, heavy snowfall, scorching temperatures and driving rain and still remains intact. I will indeed now be purchasing a sticker for use on my own vehicle.
Key-rings:
• SHADO key-ring. This was both heavier ( 45 gm) and larger than I had anticipated. It has been in constant use for over twelve months and has shown no sign of damage, scratching or any wear at all and any slight marks on the logo wipe off easily. The chain linking the actual logo to the 'ring' is exceptionally sturdy, well-constructed and has not shown any tendency whatsoever to split. It is currently undergoing metallurgic analysis to determine its origin. However, its design, and its size, preclude it somewhat from being used as a key ring for vehicular use.
CD:
• UFO 40th Anniversary Edition. A double cd of music, with an informative 24 page booklet that gives extensive details of the contents. A thoroughly enjoyable soundtrack, especially for true connoisseurs of excellent music.
Conclusion:
These Fanderson sales items are of excellent quality. I am convinced that, had I purchased other items such as the International Rescue patches, stickers or key-rings, they too would have been of the same quality. The cost of some items seems to be slightly excessive, especially as one has to be a member of Fanderson in order to purchase goods, but this is acceptable considering the quality and also the fact that these are not freely available to the general public.
Some items, such as the keyrings, might benefit from being available in a smaller size to enable more discretion, and a wider range of use, but the large size does have the advantage of being easy to find, although it can be somewhat painful if sat on.
I trust that my report meets with your approval.
Dr. D. Jackson FRCPsych. FRCGP. MClin